If you are taking Intro to Ecology and Population, Experiential Biology or Evolution as a course this semester, then you have met California Lutheran University's newest biology professor, Anita Stone.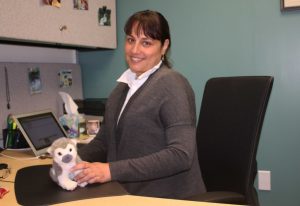 Stone was born and raised in Sao Luis, Brazil, which is an island located just under the equator. When she isn't teaching, Stone is probably singing karaoke or playing with her two Maine Coon cats, Toaster and Floco. Along with her 10 years of teaching experience, Stone was also granted a Fulbright Fellowship in June 2013 to research her favorite primate, the squirrel monkey.
"I could be teaching, but then jump in a car and go to the field on the weekend," Stone said.
Stone's Fulbright Fellowship  allows her to mentor graduate students from the Universidade Federal Rural da Amazônia, while still holding a teaching position at Cal Lutheran.
"It was a really nice way to learn a different educational system, accelerate a lot of things in my research because I was physically there to oversee things and see how they were going," Stone said.
Stone also said she would love to help students with their research projects. One of her favorite things about research is publishing her findings.
Stone plans to continue her own research of squirrel monkeys this summer and would love to bring one or two students along with her to Brazil to help them gain hands on research experience.
Stone's mentor and fellow colleague, Karrolyne Fogel, associate professor of Mathematics, loves Stone's high energy and engaging personality, and would love to experience one of her lectures firsthand. Fogel also believes that Stone has the potential to go above and beyond expectations while here at Cal Lutheran.
"I am always wondering who is coming in, and what new ideas are they [new professors] going to have and how is that going to grow the university and I think she has the potential to really make her mark here," Fogel said.
Stone is also looking forward to teaching some of her favorite classes next semester, Biology of Sex and Gender, and Primate Ecology. These classes are new to Cal Lutheran and she is excited to bring them to campus.
Stone's former colleague, Shaily Menon, Dean of Grand Valley State University, sends her best wishes and is excited for Stone's new adventure here at Cal Lutheran.
"Professor Stone impressed faculty and students at GVSU with her enthusiasm and passion for teaching. She clearly enjoys teaching and is good at it, as reflected by student evaluations of her teaching. Professor Stone made many contributions to department meetings and committees," Menon said in an email interview.
Menon stated that Stone is extremely talented when it comes to research and that her years of experience will only help Cal Lutheran's research programs grow.
"Professor Stone is really good at experimental approaches to her research and has been very successful at obtaining grants, completing projects and publishing papers based on her research. She will do a great job setting up collaborative projects for undergraduate students and helping them in all aspects of research and publication," Menon said. "Professor Stone has a strong commitment to diversity and inclusion and will be an excellent mentor and role model for students from diverse backgrounds."
Sam DiMaggio
Staff Writer