On Sept. 12 the spine was buzzing with chatter from California Lutheran University's Study Abroad Center's annual study abroad fair. Complete with a crepe truck, tables of information and 15 program representatives, this year's event drew the attention of many students on campus.
Study Abroad Director, Lisa Loberg said that the annual event is typically very successful. They invite representatives from the study abroad affiliate programs, set up tables filled with information and allow students to walk around and inquire about different programs.
"The reason for today's study abroad fair is to help Cal Lutheran students learn about the many study abroad options that we have for them" Loberg said.
Loberg said that the entire Study Abroad Center looks forward to the fair each year. Her favorite part is getting to bring all of her colleagues onto the Cal Lutheran campus.
"It's a great group of people that we work with, we have fantastic partners and partnerships so having the opportunity to bring them all to campus for one day is really fun for our office" Loberg said.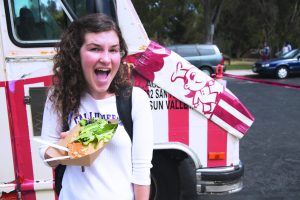 This year's event featured study abroad opportunities both traditional and new. Loberg said that the center is looking forward to sharing with students about three new travel seminars in the spring.
Travel seminars are spring semester classes that end in a trip to the destination they have been learning about all semester, Perkins said.
Study Abroad Programs Coordinator, Katie Perkins, said that this is the first year the seminars have been featured at the fair. Perkins said that these seminars are faculty-led and are truly hands-on learning experiences.
"You're not sitting in a classroom at all once you're there," Perkins said. "The seminars are usually a combination of cultural activities, looking at different historical sites and lectures."
The first seminar is a political science course in Cuba, the second is a history course in Japan and the third is a religion course in Israel. Although each course fulfills different major requirements, Perkins said they all satisfy the global perspective core requirement.
Both Perkins and Loberg said they really encourage students to look into the seminars and study abroad in general.
"What better way to gain global perspective and to really learn about the world. It's so enriching for student's academic study," Loberg said.
Loberg said that the crêpe truck was another first for this year's fair. The truck that belonged to a company called "Crepe'n Around" was parked on Memorial Parkway and was available to students who participated in the fair.
"The food truck was a hit, and we served more than 250 crêpes. We are definitely looking into having a food truck again next year," Loberg said in a follow-up email interview.
Cal Lutheran junior, Vanessa Villareal, attended the fair and said that she enjoyed all the fair had to offer, including the crêpe truck. Villarreal said that she came because she is interested in studying abroad in Spain and wants to explore all of the options offered through Cal Lutheran.
"I want to experience another culture and everyone here has been really helpful in answering all of my questions," Villareal said.
Loberg said that this year's fair was a tremendous success and students were able to obtain a lot of information about their study abroad options.
"We talked with so many students-first-years and transfers, sophomores, juniors and seniors. It was such a great turnout," Loberg said in a follow-up email.
Students can visit the Cal Lutheran Study Abroad Center website to find more information about how to get started with their study abroad experience. Loberg said that students have so much to gain from studying abroad.
"They make friends from all over the world and memories that last a lifetime," Loberg said.
Alli Barton
Staff Writer