Use Your 12 Free Counsel Sessions
The sounds of flowing water and relaxing music greets everyone who walks through the door to the waiting room in Student Counseling Services. Coloring books, Moon Sand, and snacks lay on the tables available for anyone who visits this building just off of Luther Avenue.
Gregory Daven, administrative coordinator, is in charge of this waiting area.
"My primary goals for the waiting room are to create a relaxing, welcoming and safe environment for students who might be in a state of emotional distress," Daven said.
In addition to a soothing environment, SCS offers many different forms of aid such as individual therapy, group therapy and relationship therapy. This is a personalized experience and students can choose which form of therapy they want to utilize.
"If a student is interested in coming to Student Counseling Services, they have the opportunity to discuss with their initial therapist what their options are moving forward," Dr. Beth Turner said in an interview.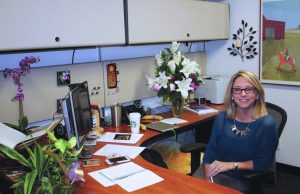 These services can be used for issues ranging from anxiety to issues with a significant other. Students get 12 free sessions, and group therapy is not included in the count so students can continue to use this resource even after attending 12 individual sessions.
"Confidentiality is taken very seriously in our office and by our profession. If someone comes to speak with us, we respect their privacy and confidentiality, which means that we will never disclose anything to any other person," Turner said in an email interview.
There are some situations when this confidentiality is limited, such as in the situation of safety and well-being. If a counselor cannot help a student find safe strategies and the student is endangering themselves or others, preventative measure must be taken. But according to Turner, the legal exceptions are clearly explained to students before they begin counseling.
There are also other tools students can use preventatively before seeking counseling is necessary. The office places importance on self-care which can consist of eating, getting the right amount of sleep and socializing.
For more tips on self-care, visit www.goodtherapy.org. SCS also offers a free self-assessment for any concerns.
Another resource on campus is the Campus Awareness Referral and Education, or C.A.R.E. team. This team is comprised of faculty on campus looking to aid students.
"The C.A.R.E. team serves the university and individual students by evaluating, monitoring and advocating for students of concern who are in need of assistance," Salma Loo, senior coordinator for Residence Life and Student Conduct and member of the C.A.R.E. team, said in an email interview.
According to the team's website, part of their goal is to foster academic and personal success for students. They do this by gathering information from multiple sources, recruiting aid from additional Cal Lutheran staff and using community resources.
"This is particularly helpful for students as it expands their network of support on campus," Loo said in an email interview.
The team always accepts referrals from students, staff and faculty about any student.
Concerned friends can submit a referral through the website www.callutheran.edu/care/ or send an email to [email protected].
This team meets weekly to discuss any new submissions and plan how they will specifically provide support.
According to Loo, they treat each student on a case by case basis and put individual thought into each situation. Once they have a plan they reach out to the student and ensure available resources are explained.
This program has helped many students over the years.
According to Loo the team assisted 34 students in the spring of 2015, and in spring of 2016 they served 44 students. One of Loo's goals is to educate the campus about the C.A.R.E. team so more referrals will come through.
So don't hesitate to send in a referral for a friend.
Anissa Fraijo
Staff Writer