Cal Lutheran Collaborates with United Way for Day of Caring
The weekend of Sept. 17 and 18 California Lutheran University's Community Service Center worked with United Way to send out students and members of the community alike for charity and community outreach opportunities.
Since 2001, Day of Caring has been an effort shared by community members to offer hands-on help to sites around the local community. It offered services that were hands-on and provided the community with help that charity organizations might offer.
The way one might get involved is through clubs. Several clubs were a part of this event in order to gain access to their allocated club funds. Some helpers were mandated by their work to give back to their community through various traditions within that company, or a spark of communal pride.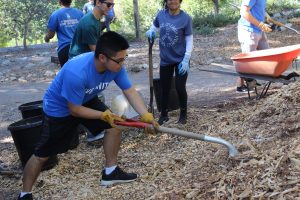 However, that was not the whole story. Volunteers were able to sign up and receive work that impacted the community in a major way and with them being strictly volunteers, this painted a good-hearted picture of those who helped.
"I love community service. I feel like it's a lot more than just going out and digging a trench or plowing a field. It's a way of recognizing your privilege and your place and saying 'OK, this is the way I can give back for how I've been blessed,'"Environment and Sustainability Intern Rachel Lapp said.
Several students at Cal Lutheran were present among the volunteers, as Cal Lutheran's campus was a kick-off site for those around the community to lend a hand.
Local businesses, like the Thousand Oaks Wells Fargo branch, also served by lending about 12 employees to serve alongside students.
"We love it. At Wells Fargo we definitely encourage our team members to give back…This is one of our favorite events of the year and we're really looking forward to it," said Ali Nawabi, Conejo Valley district manager.
Wells Fargo, Cal Lutheran students and volunteers were able to provide hands-on services to the community by participating in activities from spreading mulch in the Conejo Botanical Gardens to cleaning library books in the Simi Valley Library.
"Yes, it is part of our job, but I want to be able to help so I am excited to go to the library…I do my part to make it look nice so that it can be enjoyed by Simi Valley's citizens," said Adam Santa Cruz, CSC advocacy intern.
The words "give back" and "charity" are used to describe this type of work, but another word that was also incorporated this year was "community." These efforts benefited the community and will continue to do so until next year when the movement picks up again.
Connor McKinney
Staff Writer