New Club Budget Rules Spark Controversy
Changes to the Clubs and Organizations policy that were passed last academic year have caused confusion about budgeting for some of California Lutheran University's senate-funded clubs. A major part of the club approval process is submitting a budget proposal, which was one of the most significant changes to the policies for clubs and organizations.
Several clubs on campus have had a hard time adjusting to these new policies. Although the changes were written out in student government's constitutional amendments, many clubs were unaware of how to implement this change into their budget proposals.
Senior Robert Kyler, president of the Entrepreneurship Club, said the new policy change has been a challenge for his club.   
"We were just kind of bombarded by it, we didn't know until our informal meeting, which was super helpful, but we didn't know until we had already turned in our budget so we weren't as diligent with it," Kyler said.
In order to be funded by ASCLUG, a club must meet a list of requirements, including but not limited to the approval process and maintaining club status. Policies for club budgets are laid out in the ASCLU constitutional amendments, which were voted on by the student body in April 2015.
Although Kyler and his fellow club members have a positive attitude toward the policy change, there are a few aspects of it they are not entirely pleased with. Kyler said that the budget is more specific and "holds both clubs and student government more accountable."
According to the Cal Lutheran Clubs and Organizations manual, clubs can only spend funds as designated by Senate in the budget they received. Clubs must specify a budget for every aspect of their funding, and are not allowed to deviate from their proposal.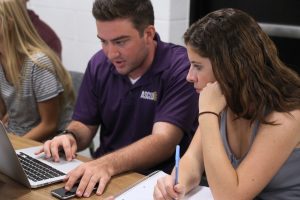 According to the manual, reimbursements will not be given if spending does not match the proposed budget.
Clubs such as the Entrepreneurship Club saw these restrictions as a possible complication.
For example, if a club has $250 allocated for T-shirts and they spend all of it, they can't use any other part of their budget to buy T-shirts. In the past, the budget policies were less specific, Kyler said.
"I do know a couple clubs were thrown off," Kyler said, "It's our student money, we should be able to use the money to fund our clubs."
"All changes were brought up in ASCLU Senate last year, was passed by both boards and then passed by a majority of the student voters," Senate director Brittney Martinez said in an email interview.
There are some clubs and club leaders who have expressed their concern about the changes.
Martinez said that student government wants to hear any concerns students may have about the policy.
"We are here for the students," Martinez said. "Should any Clubs and Organizations have any questions regarding these or any other changes within the constitution we are more than happy to hear from them."
Although, confusion is a common theme expressed from clubs regarding the changes to club policies, Kyler said that he sees good coming from the changes. "I think it is give and take," Kyler said.
California Lutheran University's club and organizations manual, as well as the constitutional amendments are tools available to all Cal Lutheran students who are in need of clarification. Furthermore, student government can be reached via email or directly at their Monday night meetings from 5:20-7 p.m. in Ullman Commons.
Alli Barton
Staff Writer