Kingsmen Fall Short Against Sagehens
The California Lutheran University football team lost to Pomona-Pitzer at home Oct. 9 for the first time since 2004. Both teams won their first game of the Southern California Intercollegiate Athletic Conference, but the Pomona Sagehens stole the second win from the Kingsmen, ending the game at 31-27.
Ending the first half, the Kingsmen offense fell short, with back-to-back turn overs and two early sacks by junior defensive end Tyler Hood. The Sagehens intercepted the ball from the Kingsmen, earning a touchdown to take a 7-0 lead.
"I was really disappointed. I didn't think we came out with much energy. Offensively we were pretty lethargic in the first half. Defensively we hung around," Head Coach Ben McEnroe said.
The Kingsmen's junior defensive end Lucas Quinn intercepted a Sagehens pass and ran 49 yards untouched by the Pomona defense. With 11 yards to make a touchdown, junior running back Chris Beeson ran the ball to get Cal Lutheran onto the scoreboard. With a failed attempt at the extra point, Sagehens held onto a 7-6 lead.
"We needed to hype each other up, it was very quiet. We seemed dead. I feel like if we motivated each other more we would have had a different outcome," Dees said.
Sagehens offense came back strong with a 44-yard pass stopping at the 20-yard line. With only an attempt at a deflection by freshman defensive back Obasi Dees, the Sagehens followed up with an 18-yard touchdown pass and another successful field goal ending the first half strong with a 17-6 lead.
Coming back from the team's halftime talk McEnroe said, "I can inspire them, but I can't motivate them and they had to bring that themselves, so we said we were going to reset and start the game over, and bring some new energy."
Cal Lutheran did just that. Coming out in the second half junior quarterback Adam Friederichsen brought in the energy to feed junior wide receiver Wendell O'Brien a 22-yard pass in the Sagehens end zone to make the score 13-17.
The Sagehens did not back off to give the Kingsmen a break. Pomona running back Aseal Birir ran the ball in 8 yards to earn the team a larger lead at 13-24.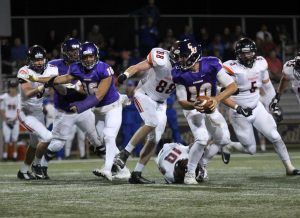 With less than five minutes remaining in the third quarter Friederichsen made a 22-yard touchdown pass to junior wide receiver Aaron Lacombe. The extra point brought the Kingsmen closer to the Sagehens lead at 19-24.
With an open pocket, Lacombe ran the ball 63 yards to earn Cal Lutheran their first lead of the game. At the attempt for the extra two points, Beeson was open once again for a successful catch making the score 27-24 Kingsmen.
Cal Lutheran's defense was unable to stop Pomona's 47-yard touchdown pass. Pomona took their lead back with nine minutes left on the clock at 27-31.
"We played tough, but penalties as a team are kind of tough to overcome. We can't blame it on the refs though, some of it's up to us. Just have to come out stronger," said inside linebacker Nick Gordon who earned a game-high of 9 tackles.
With efforts to get the lead back, Friederichsen connected a pass to freshman wide receiver Cameron James and a handoff to Beeson, but the Kingsmen could not reach the first down marker.
Kingsmen defense came out onto the field with six minutes left on the clock but were unable to make a stop. Pomona protected their lead and ended the game at 31-27.
"We have to bounce back. We lost a football game, it's not the end of the world, it's nothing to quit over. We have to get up and compete better," McEnroe said.
With hopes of a comeback and a win for their third game of  SCIAC, Kingsmen play away Oct. 15 at 1:00 p.m. against Claremont-Mud-Scripps.
"We're just going to have to leave this game behind us and start working a lot harder. We need to study the film better, and just come back next week, like this week didn't even happen,"  Hood said.
Maryssa Rillo
Staff Writer