New Parking Available for Residents
October 11, 2016|10 Views
California Lutheran University allows students, staff and faculty to park on campus for free in specific areas. In a recent change, another section has been added for residential students.
Due to recent changes, parking along both sides of South Campus Drive will now be available to residents in addition to the commuters and staff that can already park there.  This street is located by South Hall alongside part of Mt. Clef Field and the Chapel.
There are Academic Core Restricted parking areas, according to the campus parking map, which means no "R" (or Resident Student) permits allowed from 9 a.m. to 7 p.m. Monday through Friday, not including weekends. These areas are found along parts of Memorial Parkway, Luther Avenue, Pioneer Avenue, Faculty Street, South Campus Drive, Regent Avenue and Chapel Lane according to the campus parking map.
"Thirty three parking spaces on S. Campus Drive between Olsen Road and Memorial Parkway are now available for resident student use.  Signage along S. Campus Drive will be changed to indicate that the spaces are available to 'R' permit holders," Director of Campus Safety David Hilke said in an email interview.
Many students living in New West have had poor experiences finding parking before and some have had to park at Mt. Clef, according to senior Schaun Billing, who is a New West resident. So this change has been positive for New West residents.
"It's already helped, I've already used it. But, I mean before there was nothing you could do. Every single spot was taken," Billing said.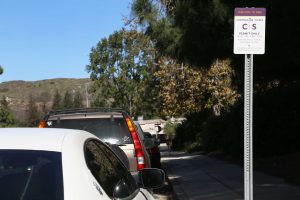 While this new switch has been beneficial to students living on campus, it made an already difficult situation worse for the commuters on campus.
"Yes, there's always residents [on the street by South]. I park on the one spot right in front of the pedestrian crosswalk and right in front of me you see at least four cars with the red resident sticker instead of the white commuter sticker, and it's a little frustrating but it's okay… I don't like the change. It's hard to find parking and I'm late to class a lot," sophomore commuter Nadine Abukhzam said.
According to Hilke and Associate Vice President of Planning & Services Ryan Van Ommeren, this change was enacted due to fall annual survey results. Campus safety has tried to make the parking situation clear with various signage around campus indicating who can park in which spots.
Campus is divided into sections for Faculty/Staff (S), Commuter Student (C), Resident Student (R), Exempt (E), and Faculty/Staff (G) which is an incentive program for faculty and staff who work in an office south of Olsen Road but may park north of Olsen Road, according to the CLU Parking Management Plan Thousand Oaks Campus.
"Staff and faculty receive a $25 per month incentive to park on North Campus.  We obviously do this to lessen parking demand on S. Campus," Van Ommeren said in an email interview.
Students living on campus are only allowed to bring one car on campus and only one type of parking permit can be issued at a time, according to the Cal Lutheran Parking Management Plan.
However, commuting students as well as staff and faculty can get more than one permit if they use more than one vehicle to commute to campus, according to the CLU Parking Management Plan.
There are certain areas on campus that no one can park in. Parking in a red zone is never allowed and Cal Lutheran can immediately tow any car in a red zone.
Green zone is reserved for special parking such as visitors, carpools or timed parking but the specifics are detailed on signs.
Yellow areas are reserved for marked Cal Lutheran service vehicles or marked vendor service vehicles.
The white zone is reserved for loading/unloading of passengers for no more than 20 minutes.
Finally, blue spots are only available for visiting vehicles with a valid disabled license plate or for cars that have a Cal Lutheran parking permit and a valid disabled license.
This is all explained in the Cal Lutheran Parking Management Plan. All this information can be accessed at https://www.callutheran.edu/offices/campus-safety/documents/CLU_Parking_Management_Plan.pdf
Permits can be applied for online through the CLU Parking Management Program and picked up at the Campus Safety Office or applied for in person at the Campus Safety Office.
Anissa Fraijo
Staff Writer