Americans account for over 140,000 of Cuba's tourists each year. The country recently lifted an embargo according to Cuba's Office of National Statistics, and now students can travel to Cuba with California Lutheran University's very own travel seminar to the Caribbean country. On Oct. 6, Dr. Gregory Freeland and Contact Programs Coordinator Katie Perkins led a talk on what students can expect from the upcoming travel seminar in May 2017.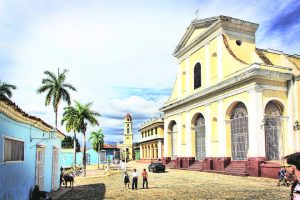 The discussion was led by Freeland and he talked about the trip as a whole and what he and his students have done the past two trips in 2013 and 2015.
The students won't have a shortage of exposure to the Cuban lifestyle as they will experience the music, the nightclubs; that Freeland said "make you feel like you are in New York City", and the Cuban people and their way of life.
Freeland himself, who has been to Cuba seven times talked about the country that has been off limits for years.
"It's very exciting. The music, the food, the people. It's an experience many of us won't have a chance to get," Freeland said. Freeland also said the country isn't what most people would expect.
"You see how positive it can be, and you come back with a different attitude based on some of the expectations you had" Freeland said.
Freeland was followed by Perkins, who spoke about the academic requirements necessary to be able to go on the trip and all expenses that are involved.
There are two required courses a student must take in order to be a part of this trip. One of them is "Caribbean politics and culture", which is political science course 422 and covers not only Cuba but also several other nations in the Caribbean, according to Perkins.
The second course required is the travel seminar course, political science course 485, which covers information specifically related to Cuba, Perkins said.
The courses that are required can be used to cover global perspectives, upper division political science, upper division global studies and also upper division social science.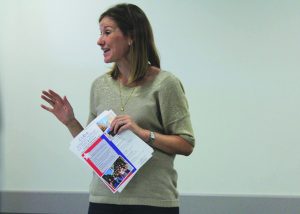 As far as expenses go each traveler would be looking at a cost of $3500, but there are opportunities to earn scholarships for the trip.
"The amounts really vary… It's anywhere from 200 to 1500 dollars," Perkins said.
Perkins, who has also been to Cuba, talked about her first experience in the country and how it was so much different from any other place that she has been.
"The biggest thing I took away from it is just how friendly and excited the Cubans are about sharing their culture," Perkins said. "I think it's just fascinating to be in a place that has been so off limits to Americans for so many years."
Peter Johnson, who attended the meeting, talked about what excites him the most about the possibility of visiting Cuba.
"Mostly just being somewhere else especially Cuba, which has always been this forbidden place for Americans, and demonizes being this land of communism and would be very eye opening to see it first-hand, " Johnson said.
If you have any questions or are interested in applying for the Cuba travel seminar, you can contact Perkins at k[email protected] or Freeland at [email protected].
If Cuba doesn't interest you there is still the Japan seminar information session Tuesday, Oct. 11 at 4 – 5 p.m. as well as the Israel/Palestine information session happening the same day at 12:15 – 1:15p.m.
Gabriel Naudin
Staff Writer