The Other Side of Coach Kellee Roesel
October 18, 2016|23 Views
Head Regals volleyball Coach Kellee Roesel did not fall in love with the sport of indoor volleyball until she was in high school. Roesel originally played soccer and her mother was her first coach. Roesel said that if indoor volleyball and soccer were in different seasons, she would consider coaching both.
Roesel also said that her mother was a big influence on her coaching style and she admired the impact that she had on so many young girls.
"A lot of the decisions I've made in coaching have come from her, my husband and Kevin [assistant coach], that's why I can never really take a whole lot of credit for anything I've done here," Roesel said.
Roesel said that she would not consider herself an expert on the game of indoor volleyball because she is constantly learning new parts of the game.
"I need to continue to figure out the psychological aspect and the situational decisions and how to help kids when they're in a slump and I feel like that is something I can always do a better job on," Roesel said.
Roesel said she does not look ahead at future matches and that she only focuses on the current opponent.
"I'm always one game at a time. I'm that cliché type coach that only worries about each play and the next ball and trying to get better. [This is] something they hear from me all the time," Roesel said.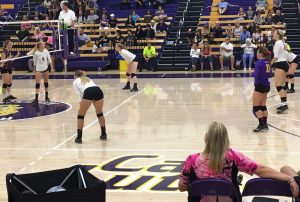 Senior opposite hitter Michelle Lawrence said that Roesel can be intense at times, but it is ultimately to get the best out of her athletes.
"You can see the underlying qualities. She's really caring, really looks out for us and she really just wants the best for all of us and that's very evident once you get to know her," Lawrence said.
Lawrence also said that she likes how Roesel always gets straight to the point and doesn't sugar coat anything.
Assistant Coach Kevin Judd said that Roesel has a persona that is rather unusual and uncommon.
"She is who she is. She stays true to her character and is not afraid to give anyone a hard time [in a joking manner] and that dry sense of humor might surprise a few people," Judd said.
Roesel said when she was originally offered the job at Cal Lutheran she knew she had to have Judd coaching with her. Judd said that 17 years of coaching together, 11 years at Cal Lutheran, is the reason for his and Roesel's success.
"It has been a blast, I see hopefully more years to come of working with Kellee and continuing to build our program and do great things and help more kids that come through CLU," Judd said.
Judd also said that Roesel's support for the girls is evident on and off the court.
"I think the kids see that she truly cares about them and wants them to succeed, to do well both on the court and off the court, so once people get to know her I think they know she has a good heart and she's doing it for a reason," Judd said.
Roesel said she is sad to see this year's seniors leave, but is excited to see what the future holds.
"I love being around them, I have six seniors that I adore and I'm trying not to think about that. I love those kids and I want this to be the best season," Roesel said. "I have to make the best decisions for the team but that's a great senior group that's made history."
Senior middle blocker Monica Lundgren said in an email interview that Roesel's amount of belief for each player shows how much she puts the team first.
"This team is her life and love and we can all feel it," Lundgren said. "It makes wanting to play for her that much more special. I respect my coach which makes me want to play my best for her."
Sam DiMaggio
Staff Writer