Psi Chi Talks Graduate School
Richter Hall filled with students Oct. 12 as Psi Chi, an international honor society for Psychology students, hosted their Psi Chi Grad Night event. The event is hosted every year and informs students about the graduate school application process.
The event came with free pizza and was sponsored by the Interdisciplinary Research Counsel and open to students of all majors and grade levels.
"This is actually a tradition Psi Chi does every year. We're an honor society so we want to make sure we're fostering an atmosphere where students are learning and are able to get information to continue their education," Psi Chi President Tianna Pasko said. 
According to the California  Lutheran University psychology department website, Psi Chi is an international honor society for psychology majors and offers scholarships, grants and residencies.
Psi Chi officers broke the presentation down into four sections that focused on different aspects of the graduate school application process.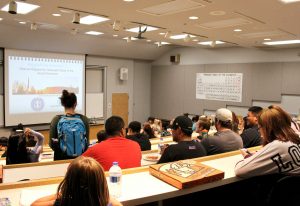 "It is a very time sensitive process and I think the most important thing this meeting does is to get people to know that so they can start delving into it themselves," said Roman Ramirez, the club's public relations coordinator.
The first section of the presentation was led by Pasko who spoke about how to find the right graduate program for each individual.
Next, Ramirez spoke about the steps of preparation that students pursuing graduate school should consider, such their their majors, emphasis, volunteering, etc.
Club secretary Savannah Aviles then discussed how to add to applications with clubs and other ways to get involved.
Lastly, Felicity Frost, Psi Chi vice president, covered the different types of entrance exams graduate students will encounter.
"I think one of my biggest take aways would be being proactive,"  Aviles said.
After the presentation ended, two guest speakers, Dr. Randy Corpuz and Araceli Aguirre, spoke further on the graduate student process.
Corpuz is a visiting psychology professor at Cal Lutheran and a researcher at University of California at Santa Barbara who spoke about what he looks for from applicants.
Aguirre is a second year doctorate of psychology, PsyD, student at Cal Lutheran and a neuropsychology lab assistant who spoke about her personal experience with the graduate school application. Both speakers commended the audience for attending and the club for throwing this event.
"Just seeing that there were so many freshmen here this time is really good because as an honor society that's really what we want to promote, how to do [graduate school applications] and how to do it well and right," Pasko said.
Psi Chi is currently accepting club applications until Dec. 10.
To learn more about the club and the application process visit the Cal Lutheran psychology department website.
Haley Townes
Staff Writer