On the morning of Oct. 22 students from California Lutheran University and senior citizens from the community joined together in a Zumba class to dance without ever having to leave their chairs.
At Bridging the Gap, students were invited to interact with senior citizens as they do Zumba dances while seated. This event was hosted for the first time at Cal Lutheran by Zumba instructor Stacy Gross in the foyer of William Rolland Stadium.
The first people to arrive were Mihoko Vukmirovich, 81, and Young Lee, 75. Both are residents of University Village, a nearby retirement community, and they attend Zumba classes every Wednesday afternoon. The two friends heard about the event from Gross and were going to walk to campus that morning, but Vukmirovich, who goes by "Miho," said it was too cold.
At University Village, Vukmirovich and Lee do many activities, including line dancing, yoga, tai chi, and "moving, grooving aerobics," Lee said. Both find Zumba to be a fun form of exercise, and Vukmirovich said she especially enjoys the music.
Once residents of University Village and Atria Las Posas, an assisted living community in Camarillo, had arrived, the event began with a 20-minute discussion session. A few students formed a group with each senior and answered a list of questions including, "What was life like when you were in your 20s?" and "What advice has served you well in life?"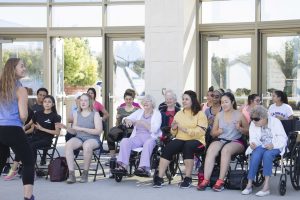 Joan Niebank, who will turn 96 on Thanksgiving this year, came to the United States from England in 1960. When asked what she had aspired to be as a child, Niebank said that growing up in the 1920s, she was taught not to look into the future. Niebank also described how her life was heavily influenced by World War II.
Niebank said the advice that has served her well is to never give up, "…keep your mouth shut, because that will save you a lot of trouble," and most importantly, to live with kindness.
When Niebank first came to the Zumba classes, she could barely move her fingers, but was able to wiggle them and really move after a few weeks, Gross said.
During the event, Niebank was sitting in her wheelchair, front and center, dancing and singing along to all of the songs, especially her favorite, "Crazy Love."
Gross said this is the third time she has coordinated Bridging the Gap with Cal Lutheran students. She said she started the event because she saw an opportunity for both groups to learn from each other.
"I just saw how fun and active and joyful they were, and when I would tell people stories about them, they would just think it was so cool, and I'm like 'man, I wish my students here could see that,'" Gross said.
Gross said she reached out to various on-campus clubs in the past to see if they wanted to get involved with Bridging the Gap for a service project, but this year before she had anything planned, clubs came to her first asking about the event.
Students from the Latin American Student Organization (LASO), Dance Multicultural Club (DMC), Ballroom Dance Club and CLU Debate Team attended, as well as students who heard about the event during Gross's Zumba class.
Gross said her favorite part of the event is "just seeing the smiles and the joy that it brings to people," and she plans to repeat Bridging the Gap in the spring.
Zumba classes at Cal Lutheran are every Tuesday and Thursday from 6:30 – 7:30 p.m. in the Forrest Fitness Center dance studio.
Dakota Allen
Staff Writer