Regals Power Past Leopards
The California Lutheran University women's soccer team now has a confirmed spot in the Southern California Intercollegiate Athletic Conference postseason tournament after their win against La Verne on Oct. 21. This 2-0 victory that ended the Regals losing streak, can be attributed to their pregame rituals.
It was their preparation off the field that united them for this game, according to freshman defensive player Zandra Stewart.
According to Stewart, the Regals participated in a team bonding exercise moments before the game in the locker room. They encouraged one another with words of affirmation and let each other know how each player contributes to the team.
Junior forward Gabby Sainz said that for each home game the team finds a new way to encourage each other so they can feel united before a game.
"Most home game days a girl on the team comes up and either has like a quote or bible verse or something to share," Sainz said.
Stewart said that this exercise did a good job of building up the team and bringing them together for this particular game.
"We passed out these posters with everybody's names on them and we passed them around and we wrote down qualities that we liked about that person," Stewart said.
According to Stewart, the game went well for the Regals and they accomplished what they wanted to do.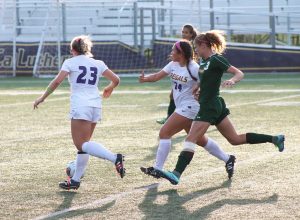 "Because of this win we are guaranteed a spot in the conference tournament and it's the top four teams in league that move on to the conference tournament," junior right forward Bri Pinal said. "The winner of the tournament moves on to the NCAA tournament so we're looking to do that."
The Regals started off the first half of this game just like the last two. They were shut out for the sixth straight half with just four shots on goal and went into halftime looking for some momentum.
Early in the second half, Pinal scored a goal from the right side of the field, taking the lead for the Regals.
"That goal felt really good, I'm really happy. The play up to it was really nice too, we were connecting passes really well and luckily I just found the open shot," Pinal said.
Two minutes into the second half, sophomore defender Riley Martin took a corner kick and passed to her teammate, junior midfielder, Nina Winsick who put the ball in the back of the net for the Regals second goal.
The Regals had nine shots to finish the second half. Pinal finished with four shots on goal, one of which slipped past La Verne's defense for a goal.
Senior goalkeeper Coral Hasley blocked two shots and held the La Verne Leopards scoreless. This was the Regals eighth shutout of the season, according to clusports.com.
Head Coach Frank Marino said that the entire team stood out to him because they did a good job of working together.
"I think we had a great team effort tonight and we did a fantastic job finding a way to grind the game out," Marino said.
In preparation for this game the Regals practiced combination plays and working better as a unit, according to Pinal.
"We definitely did better at focusing. That was our big goal of this match, is to make sure that everyone was staying focused 100 percent of the time and I think overall we did a really good job of that," Stewart said.
With two games left in the season this 2-0 victory starts a winning streak for the Regals.
Cal Lutheran will host the Occidental Tigers Oct. 26 at 7 p.m. in their last SCIAC home contest, where they will also be honoring their seniors in their last regular season home game wearing the Violet and Gold uniforms.
Alli Barton
Staff Writer