New Thompson Hall Garden
The smell of freshly laid soil fills the air and little popsicle stick labels sprout from the planter boxes in Thompson Hall's new garden. On Oct. 16, Thompson Hall residents gathered at their newly renovated garden.
Senior and SEEd Garden staff member Julia Teitzel said in an email interview that she hopes to see more little gardens around campus and hopes to see more halls add gardens as well.
Teitzel said that the main inspiration behind the SEEd Garden was to let students directly learn about and engage in sustainability and grow their food. Teitzel also said that the SEEd Garden holds an event every other Saturday in the garden.
"The garden is open all day and anyone is allowed to come. We normally have SEEd Saturdays and would love to have more people out working and getting their hands dirty," Teitzel said.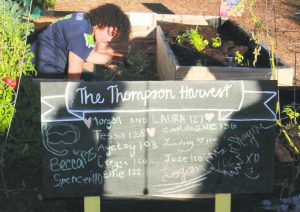 Sophomore and Resident Assistant Brad Edens said that he and his fellow Resident Assistants would like to parallel the SEEd Garden's values.
"It's a branch of the SEEd Garden and its whole purpose is to promote the value of 'Sustainable Edible Education,'" Edens said.
According to Edens, the Thompson Hall's garden has been around since May 2015, but Oct. 16 was the first time the garden was up and running.
"The planters themselves have been there and then [we] just rejuvenated and planted new things and weeded out what was there," Edens said.
Edens said that there was a great turn out for the event and the residents helped to get the whole thing done efficiently.
"[Residents did] everything from actually planting seedlings to planting just seeds and then eating mud pies," Edens said.
Edens said that the students planted all types of edible plants including carrots, squash, tomatoes and kale. Not only does the garden include many different edible plants, but also a picnic table for residents to gather around and check in on their growing plants. Edens said he is glad that residents have another place to hang out.
"My goal was to provide both somewhere that they [the residents] could be proud of that they helped out as well as a nice peaceful area," Edens said.
Thompson Hall Graduate Resident Director Shayna Perry said she always wanted a garden in the back of the hall. Perry said she was excited to work with the SEEd students to help make an extension of the garden.
"We both kind of had the same idea, and then he [Dr. Thomas] helped us build all of it, the SEEd students really helped build the boxes and over time we've been adding to it," Perry said.
Perry said that the Facility Operations and Planning office has been a big help during the building of the garden.
"Facilities has been a huge help. They helped us clear the land initially…they've gone above and beyond to help us put it together and make improvements over time," Perry said.
Perry also said that the garden used to contain some succulents, but they wanted to focus on plants that students could watch grow and then use.
"We tried to do it so whatever we are planting, it would be something students would actually eat," Perry said.
Perry said that she cannot take any of the credit for this project and her staff has been very helpful.
"My RAs [Resident Assistants] are a big part of it. Essentially they are the ones that put on the program and make everything happen," Perry said. "They should really get the credit for the program, they've been awesome."
Edens said the garden was always there but now students can take pride in it. Edens also said that they hope to use the garden as a space to hold future Thompson Hall programs.
Sam DiMaggio
Staff Writer