On Oct. 21, the Multicultural and Latin American Student Organization sponsored the annual Dia de los Muertos event, which took place in the Ullman Patio, between the mail room and Starbucks.
The event, which happened from 5 – 8 p.m., had upbeat Latin music playing from speakers, which set the mood of the event. This was to be a celebration of people who had passed on, not a sad time of grief. There was even group dancing during certain songs.
In the plaza of the event, there were a wide variety of tables that were set up, each decorated for a specific purpose. The center of the event housed a table decorated with an altar sporting numerous pictures of deceased loved ones and family members, as well as skull and skeleton imagery.
There were also tables with Lotería, which is a bingo game played with pinto beans as chips. There were also activities such as crafting multicolored marigolds out of tissue paper, a raffle for all guests, making calaveras de azúcar, or sugar skulls.
There was  another station which hosted people being painted with the pattern of a skull, either on half of the face, or the entirety of the face.
"The colors [of the face painting] are vibrant," Leylany Rodriguez, an event face painter, said. "This holiday isn't supposed to be something to mourn about, it's like a festivity, a party. So that's why when we do the sugar skulls and the Day of the Dead face painting, it's supposed to represent livelihood and color and our passed loved ones on the face."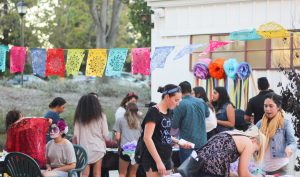 Finally, there was a table with pan dulce, which is a sweet bread also known as bread of the dead.
Georgina Torres, co-president of LASO and one of the people in charge of this annual event, looks forward to the Dia de los Muertos event every year because of the outreach within the community and how many people attend the event.
"I think seeing the outreach, definitely, and then just being able to spread the culture at [Cal Lutheran] is important, and the community, too, like Thousand Oaks," Torres said. "Just hearing the music, Latin music, playing in campus makes me happy. And seeing a lot of people come and get attracted by it is really exciting too."
And even though this event was very happy, as it was a celebration, it also served as a remembrance for those who have passed, including people like John F. Kennedy, whose picture was on the altar.
"We have a giant box of altar stuff that we've had throughout years since before I was here. It's just tradition to put it up," Torres said.
For Rodriguez, the face painting aspect of Dia de los Muertos is a family affair. Her mother has owned a Mexican folk art store in Ventura for eight years.
"I was always introduced to painting and the supplies, so I just got into it. And then two years ago, I started getting into face painting, which is basically just painting on a different surface," Rodriguez said. "And with face painting, I do face painting at my mom's shop, I do parties, but it did start with the Day of the Dead."
Rodriguez also said that the Day of the Dead was supposed to be a celebration of those who have passed away, and not a dark and sad time.
However, not all people of Mexican ancestry celebrate the festivity. Alex Perez, a guest at the event, does not celebrate the event within her family.
"I don't know [why my family doesn't celebrate Dia de los Muertos.] It just hasn't been something that my family celebrates," Perez said. "I'm actually a part of SSS, Student Support Services, and I saw all the marketing and the posters for [the event], so I decided to come, and it's actually really cool and interesting," Perez said.
Henry Studebaker
Staff Writer