Kingsmen Fall to Stags on Senior Night
Stakes were high as the California Lutheran University Kingsmen soccer team took on the Claremont-Mudd-Scripps Stags Oct. 24. The seniors looked to put on their Violet and Gold jerseys for one last home game. The Kingsmen fell short losing 0-1 to the Stags in their last home game of the season.
"First off my heart is broken for our guys because they worked really hard and they wanted this game," Head Coach Dan Kuntz said.
Before the start of the match seven seniors, Casey Kurtenbach, Andrew Korshavn, Salvador Orozco, Henry Breheny, Gabriel Fernando, Andres Mendoza and Zach Torres were honored for their athletic service to Cal Lutheran.
Once the ceremony ended, players had to get back into game mode because it was kickoff time.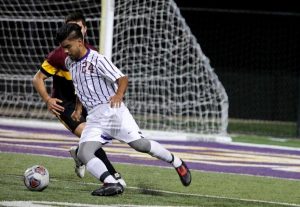 "We told the team that we know it's a big night but the goal was to try and get the win and we definitely tried our best to do that. We put our blood, sweat and tears on that field," Fernando said.
In the 15th minute junior midfielder Diego Ortega lined up for a penalty kick that went just over the net. Tensions rose in the 20th minute when a shoving match between players on each team broke out. The Kingsmen refocused and continued to fight off CMS before they were able to score in the 23rd minute.
"We were then forced to kind of come out of our game and become more direct, going to goal, fighting to the goal," Kuntz said.
In the second half the Kingsmen came out looking to score. Kurtenbach pointed out how his team controlled the game in the second half.
"We had way more opportunities than they did, we just didn't take advantage of them, but I mean it just shows that we didn't ever give up," Kurtenbach said.
Earlier in the half, junior midfielder Jaime Alvarado took a shot on the goal. In the 62nd minute junior goal keeper Eduardo Garcia had a big save after CMS put together a drive down the field. The Stags' sophomore midfielder Luc Stervinou received a red card and was ejected from the game. In the 88th minute Ortega took a final shot on the goal but CMS junior goal keeper Daniel Cui saved the attempt.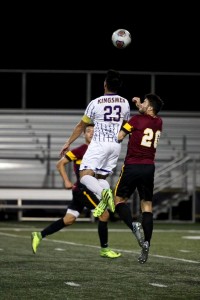 After the game Fernando and Kurtenbach reflected on their time playing for Cal Lutheran.
"Unfortunately tonight didn't go our way but I couldn't be more proud of this team, we're brothers," Fernando said.
"It's been a wonderful experience. It's been a pleasure to play with such great teammates. They've always been my best friends," Kurtenbach said.
The Kingsmen will travel to Pasadena, California to take on Caltech in their last game of the regular season Oct. 29.
"We know what the point system is, we're probably not going to make it in the top four, but we still have a great game ahead to go out there and do something positive," Kuntz said.
Haley Townes
Staff Writer