Kingsmen Drop Homecoming Game
On Oct. 29 the Kingsmen football team lost to the Chapman Panthers 27-12 in a Southern California Intercollegiate Athletic Conference match up on Homecoming weekend.
"We knew it was going to be a bit of a slugfest with them. You look at them and it is kind of like looking in the mirror in terms of how the seasons have gone," Head Coach Ben McEnroe said.
McEnroe called this game a learning process.
"We knew where they were going to attack our defense and we didn't make enough plays there to win the football game. Our offense, we missed some opportunities and we had a couple guys open and we had some shots and some momentum and field position," McEnroe said. "I just think we didn't execute and we weren't able to match the energy our opponent brought."
Cal Lutheran won the toss and elected to receive the kickoff resulting in a 31-yard return from freshman defensive back Jerome Hull for the Kingsmen. The Cal Lutheran offense took the field and put together a five-play drive down the field. Then junior running back Chris Beeson rushed 28 yards into the end zone scoring the first touchdown of the game for the Kinsgmen.
Heading into the second quarter the Panthers had a slight lead over the Kingsmen, 7-6. Early in the second quarter, Beeson scored a touchdown for the Kingsmen at the end of a six-minute drive down the field.
Going into halftime the Kingsmen had the lead, 12-7.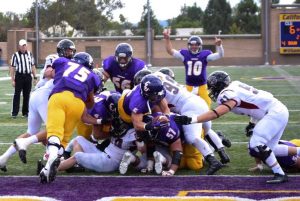 The second half proved to be challenging for Kingsmen with the Panthers scoring early in the third.
"It felt like the momentum had switched from us to them. We had the momentum in the first half and it seemed like we were going to win the game and then they just came out and got the momentum back when they were driving the ball," sophomore defensive lineman Tyler Hood said.
The Panthers managed to score two more touchdowns in the third and fourth quarters. The Kingsmen tried to respond but were shut out by the Panthers defense in the second half, ending with a score of 27-12.
"It was a tough loss. It's homecoming, it's the game that we want to win for us and the fans and all the alumni but we came up short, so we've just got a lot of stuff to fix and get ready for the game next week," junior wide receiver Aaron Lacombe said.
Cal Lutheran looks forward to their senior night where they will play the last home game of the season Nov. 5 against Occidental.
Haley Townes
Staff Writer