The event that kicked off Homecoming Weekend at California Lutheran University was Monte Carlo. This year, the dancing, music and other fun took place at Moorpark Country Club.
The Associated Students of California Lutheran University Government hosted Monte Carlo and much preparation went into the event. Monte Carlo included free admission to all Cal Lutheran students. Students were also allowed to bring one guest free of charge as long as they had a photo ID. This event took place from 8 -11:55 p.m. Oct. 28.
"ASCLUG is very excited to host this year's annual Monte Carlo event," Associate Director of Student Life Andrea Treptow said. "This event has been a tradition the past few years that students look forward to attending.  It is one of the largest attended events put on by ASCLUG throughout the year."
Student government began searching for venues in May of this year according to Senior Programs Board Representative Melissa Magdaleno. They decided on Moorpark Country Club in the beginning of July. Last year, the event took place at Los Robles Golf Course in Thousand Oaks.
"Large events like Monte Carlo require planning to begin as soon as possible," said Magdaleno, who was the event lead for the Monte Carlo dance. "It has mostly been planned and booked within the past three months. It can get very hectic the weeks before but it is always worth it in the end."
Based on last year's attendance for the event, an estimated 1,350 students were to attend with 1,100 Cal Lutheran students and about 250 guests of students. This year, Programs Board estimated even more students to attend because of the event's growing popularity.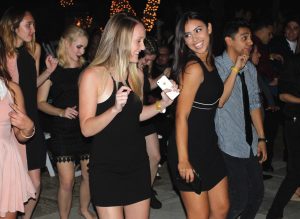 According to ASCLUG, the budget for the Monte Carlo dance was $20,000. The budget covered the venue and many activities for the students. Activities available at the event were dancing on the dance floor and a DJ providing music. Also, 24 casino tables gave students the opportunity to win different prizes such as a weekend stay in Las Vegas or two tickets to Universal Studios.
"Our event planning process includes collaboration with various campus partners and/or off-campus vendors," ASCLU Programs Board Director Andres Elvira said. "Additionally, marketing is a necessary and important component in order to garner as much student attendance as possible."
The budget also covered security, lighting, decorations, prizes and a photo booth.
Activities such as the gambling games, desserts, a photo booth and music catered to students who were not necessarily interested in dancing. The gambling games used immitation money for games such as blackjack, poker and roulette. This immitation money gave players the opportunity to win prizes.
Last year, Monte Carlo only expected to have 500 students attend the event. More than double the amount of students attended this growing event. This year's Programs Board made sure to accomodate for a large amount of students so that all people can enjoy the event.
"Monte Carlo was so much fun," senior Dakota Himmelman, who attended the event, said. "You could tell that everyone was enjoying themselves tonight. It was great to spend this night with all my friends."
ASCLUG has not finalized statistics regarding the event. A full budget breakdown for this year's event was not provided by ASCLUG.
Jeff Rebello
Staff Writer