New Autism And Communication Center
After the Spectrum of Opportunity Conference that shed light on community needs, California Lutheran University opened the Autism and Communication Center in September 2016 to assist students with autism and their supporters, such as teachers and families.
The ACC primarily provides conferences, training and workshops, emphasizing the effort to find technology to support individuals with autism who are minimally speaking and non-speaking, Beth Brennan, founding co-director of the center , said.
The Spectrum of Opportunity Conference in March 2016 hosted by Brennan and Edlyn Peña, the other founding co-director of the ACC.
"When we were done with the conference we felt like we couldn't just walk out and not have anything to support the families and the practitioners who had come to the conference and were asking 'What's next and how can we stay connected?'" Brennan said.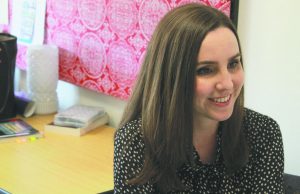 Brennan and Peña, alongside Jacquelyn Greenhill, coordinator of advisory boards and community engagement for the ACC, soon began working on a plan for the center and submitted a proposal, Brennan said. She said the university was incredibly supportive and helped get the center up and running.
Peña said the center has received "overwhelmingly positive" feedback and has gotten a variety of individuals involved, including speech-language pathologists, special education teachers, people who type to communicate and the parents of students with autism from the area.
In its efforts to bring a voice to people with autism, Greenhill said the ACC is addressing a "civil rights issue" for one of America's largest minority groups.
"There's not a lot of support for people with autism that are nonverbal. This is a population that has been really frequently overlooked…there's been a lot of misconceptions in the past that people who don't communicate verbally with language are not intelligent," Greenhill said.
The ACC celebrated its launch Sept. 29 with an event that had over 200 attendees and featured keynote speaker Steve Silberman, author of the novel "NeuroTribes," Peña said. She said the center also had a second Spectrum of Opportunity Conference Oct. 8 featuring two speakers with autism from Vermont who communicate by typing on iPads.
Peña, who is a member of the national Interagency Autism Coordinating Committee, said the center hopes to support access to such forms of communication relative to students' needs. She said there are also plans to provide direct services to Cal Lutheran students by partnering with the disability office.
The ACC also has an interest in students who are applying to or are enrolled in post-secondary educational programs and discovering how best to support them, Brennan said.
These goals of exploring communicative technologies and supporting students will be carried out through research focused on students with autism who use "alternative and augmentative communication," Peña said.
The ultimate vision of the ACC is to develop an interdisciplinary center involving people from across the university "to bring their expertise and interests together to provide support regionally for individuals with autism and their families and their support providers," Brennan said.
Brennan said Cal Lutheran students will be able to get involved with the center by assisting with research.
Conferences are also free to Cal Lutheran students, and graduate students hoping to become special education teachers can benefit from training, Greenhill said.
Another aspect of carrying out the ACC's mission of reaching out to the community is getting people engaged. Greenhill said that while her colleagues Brennan and Peña are focused on researching and pushing the center in the right direction, her position involves taking their message and connecting it to the public.
As part of her efforts coordinating community engagement, Greenhill is forming two advisory boards to "keep us honed and find out what we need to be doing," Greenhill said.
The first advisory board is Cal Lutheran-focused, involving faculty and staff from areas such as the Graduate School of Psychology and Counseling Services, Greenhill said. The second is a community advisory board composed of speech-language pathologists, special education teachers and even a college student with autism who types to communicate.
The center does not have a physical office or facility yet.
"Right now it just kind of exists in everyone's hearts," Greenhill said.
Dakota Allen
Staff Writer