California Lutheran University joined together with the American Red Cross Nov. 10 to host their biannual blood drive to collect blood donations.
The event was hosted with the assistance of the Community Service Center series.
The blood drive gave Cal Lutheran students the opportunity to save up to three lives through their blood donations.
This event was spearheaded by Nicole Cozzi, the coordinator for the Community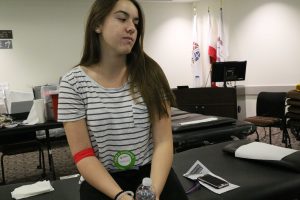 Service Center and Student Life, as well as Ana Sofia Campos, the on-campus intern for the Community Service Center.
"The Community Service Center has helped coordinate blood drives for a number of years, I'm not quite sure how many to be exact, but we work with American Red Cross and United Blood Services," Cozzi said. "So, currently today the American Red Cross is who we have on campus today."
Cozzi said that Cal Lutheran works with the American Red Cross or United Blood Services regularly.
"Well, I think with the partnership with the two services, it has been in place for a number of years, so it's simply. . .one we'll have the one time, and then the other [organization] will be the other time," Cozzi said. "So, in February, it will be for the United Blood Services."
And while this may have personally been Campos' first year organizing and recruiting people for the event, it had no negative effect on her feelings toward the event as a whole.
"I just think it's really rewarding because the blood is going to places. . .that need blood," Campos said. "I know that one pint can save three lives so right now, we are booked for. . .46 appointments, that's 138 lives that are saving so to me, that's really rewarding."
And due to Campos' personal experiences with family members needing blood transfusions, she was very thankful for the people who donated. She said she was elated that the drive was going so well and that it was for a good cause as well.
"I think a lot of people, when thinking of making a difference, they think they have to make grand gestures, they have to join Peace Corps, they have to. . .save all these dogs and cats, they have to do these grand things. There's so many ways, and just simple, little actions, rather it's just smiling to one another, or being friendly, or little acts like this," Cozzi said.
Participants on campus, like Brandon Salinas, donated for their own different reasons. Salinas has donated blood twice before.
"I mainly do it because I have O-positive blood," Salinas said. "And I know that I'm able to give, so I try to give to people that need it."
Additionally, Salinas said that he thinks everyone should donate blood, so long as they're able to. 
For those who missed out on this blood drive, there will be another one next semester either Feb. 14 or 15 from 10 a.m. to 2 p.m. in Ullman 100.
Henry Studebaker
Staff Writer