Coming off an impressive 19-8 season, the Regals of California Lutheran University have regrouped and are ready to tackle the 2016-2017 basketball season. The team will feature some new faces this season, but the lineup will be anchored by six seniors.
Cal Lutheran finished third in the Southern California Intercollegiate Athletic Conference last season. They reached the SCIAC Postseason Championship game but lost to Claremont-Mudd-Scipps and fell one game short of earning a playoff bid.
"Last year was a good year for us," Head Coach Lindsay Goldblatt said. "We have our core returning and we only lost one player to graduation. We're looking to continue to build on the success we've had in the last two years, but we can be better in some areas so we can see if we can get ourselves a little further this year."
The Regals will return their leading scorer, senior guard Jessica Salottolo, who averaged 12 points per game last season. The Orange, California native has earned a spot on First-Team All-SCIAC in the last two seasons.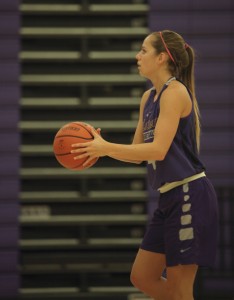 The team will also return its leading rebounder, senior forward Haley Hodgson, who averaged 5.8 rebounds per game during the 2015-2016 season as well as 8.8 points per game. She will be working alongside senior forward Taylor Messick who was a force in the paint averaging 7.1 points per game and 5.5 rebounds per game. The Regals will have some depth in the post positions with junior forward Tatiana Dunlap. She averaged 5.2 points and 4.5 rebounds per game during her sophomore campaign.
"We expect to have a really strong start," Hodgson said. "We hope to sustain it for longer than we did last year. I think we're bringing back a lot of experience. The girls know the system that we have set up and we have that team chemistry that'll help us flow this season."
The Regals return a multitude of ball handlers including senior guard Janelle Porter, senior guard Sofia Cruz and sophomore guard Grace Derksen. These floor generals will share the duties of bringing the ball up the court and running the offense.
The experienced Regals will welcome two freshmen and two transfers to the roster this season. First year guards Natalie Ruhl and Zoe Tinsley will look to contribute in their inaugural basketball season at Cal Lutheran. Transfer juniors Jasmine Bernardo and Makenna Murray will also see minutes for the Regals this year.
"It's a lot different than high school but it's a more competitive level," Ruhl said. "We expect to work hard and compete and that will help us do well against our competition. [New players] will bring in a good work ethic and that's the biggest thing."
Senior guard Katy Lindor will return this season after missing nearly all of last season due to a season-ending injury. In her sophomore season, she averaged 5 points per game and 6 rebounds per game. She appeared in all 27 games that season. Her return will complement a well-rounded senior class going into their final season.
"We have set some pretty high goals," Lindor said. "We have a senior class that's been together since our freshman year. We have a solid group that's meshed together during the last three years. Going into our fourth year, we've set high expectations for ourselves."
Cal Lutheran will begin their season Friday, Nov. 18 at 2 p.m. when they take on the Lutes from Pacific Lutheran University in Tacoma, Washington in the Doug McArthur Classic at.
Jeff Rebello
Staff Writer