Samuelson Aquatics Center was the site where the California Lutheran University men's water polo team celebrated Senior Day for three of their players Nov. 12 against Redlands.
Zack Card, Ben Russell and Camron Hauer were the three seniors honored prior to Saturday's matchup. Each athlete served the water polo team for the past four years.
"Whenever you have somebody who spends four years of their lives dedicated to a purpose it's sad to see them go," Head Coach Craig Rond said.
The Kingsmen came out full force on the offensive side. Junior Chris Gardhouse and senior Zack Card were the main beneficiaries of this early on slot and it allowed the Kingsmen to climb to an early 2-0 lead. Freshman Taggart Diehl was able to add one to push the lead up, but Redlands was not phased and was able to add two of its own. The Kingsmen held a one goal lead heading into the second period.
As the second period started, both teams pushed on and junior Davy Thomas was able to add his name to the score sheet as well as Diehl adding his second point. The Kingsmen headed into the half down 6-5.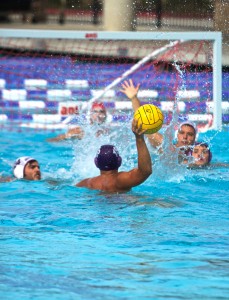 The third period was huge for Redlands as Max Taylor scored four goals allowing the Bulldogs to separate themselves from the Kingsmen.
Heading into the fourth and final period, the Bulldogs held a 10-7 lead and were looking to fend off any comeback by the Kingsmen.
Junior Nick Loomis had a game-high 13 saves and was doing his best to keep the Kingsmen in the game.
As the fourth period began, both teams continued to show their offensive craft. The Kingsmen tried to level up the score, but ultimately the Kingsmen were unable to outscore their competitor as they fell 13-9.
"Coming here every day and playing the sport that I love with my best friends… I'm going to miss playing with them," Russell said.
Hauer, who was able to add one last goal to his career total, said how he feels the team will fare going into next year.
"We'll do pretty good next year. The leading scorer and our top defender are staying, also our goalie is staying… I think the team should be better next year," Hauer said.
The Kingsmen will be returning many of their players for the next year.
"We just have a lot of really young good athletes… there's a lot of young guys [who] are capable and then to see some of the middle classers step up in the leadership roles will be fun," Rond said.
This year's team finished 7th in SCIAC with a record of 10-12 overall and with a 2-6 record in conference play.
Gabriel Naudin
Staff Writer