On Nov. 29, California Lutheran University's Criminal Justice Club spread the holiday spirit when they hosted their event "Christmas Cards for Zoe". The club partnered with Zoe International, an organization that works to rehabilitate victims of child sex trafficking, to reach out to victims during the holiday season.
Complete with Christmas music, decorations and cards, the event encouraged members of the Cal Lutheran community to write uplifting Christmas notes to be sent to the victims in Zoe International's rehab campuses in Thailand and Los Angeles.
Nicole Bird, an intern for Zoe International, organized the event in hopes to spread awareness of sex trafficking to college students and bring joy to these children.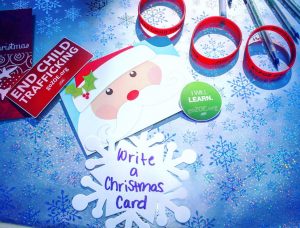 "I figured a lot of college students aren't going to want to donate a lot of money because it's not as realistic, so I figured signing Christmas cards and making Christmas great for these victims would be really great and the best way to go about it," Bird said.
Bird said Zoe International is doing a majority of their work in Thailand where they rescue, rehabilitate and encourage children who have been victims of sex trafficking. However, they are working to expand their presence in the United States, where they are mostly doing preventative work right now.
"You have to start small and you have to hope that at least some person is listening, so if we touch the hearts of at least one person that's all that matters," Bird said.
Bird said that as an intern, she is working with Zoe International's campaign "My Gen My Fight."
"Our goal is to get this generation to understand what sex trafficking is and how to prevent it in whatever way possible," Bird said.
Abbigael Howard, a member of the Criminal Justice Club, also helped organize the event.
"Since I have a huge passion for this, I decided to help out," Howard said. "We are focused on helping victims take back control of their lives."
Howard said that when Bird came to her with the idea, she was so excited to help out and put a smile on a child's face during the holiday season, as well as boost their spirits.
"Because it's not such a well talked about problem in the United States, we're trying to build awareness for it," Howard said.
Bird said the goal of the event was to get 80 Christmas cards signed, and the goal was accomplished.
The table of cards was swarmed with students and faculty alike who were all eager to sign a card and learn more about the topic of child sex trafficking.
Junior at Cal Lutheran Ava Poudyal said she stopped to sign a card because she thinks it is an important issue to address.
"These are victims of child trafficking and people in need are the people we should be helping the most, especially during the holiday season," Poudyal said. "So I just think it's important that everyone feels loved and wanted and appreciated during this time when families all come together."
Bird said that although her internship is coming to an end she, along with members of the Criminal Justice Club, want to host more events on the Cal Lutheran campus to spread more awareness.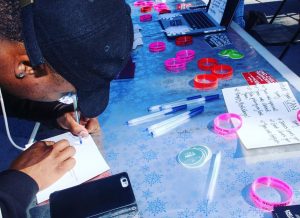 Bird said that her favorite part about her experience as an intern has been "knowing that I'm teaching people about human trafficking and teaching them how to recognize the signs and hopefully that's going to save one person."
Bird and Howard said that they are going to start a Zoe Club at Cal Lutheran next semester to keep up the momentum of this event.
"If students have any questions or are interested they can join the Criminal Justice Club. We really want people to join and get involved," Bird said.
Alli Barton
Staff Writer