The California Lutheran University men's basketball team took on Redlands for the first time this season Jan. 24 in Southern California Intercollegiate Athletic Conference play and topped the Bulldogs 85-82.
Redlands took advantage with an early six-point lead with 16:57 left in the first half. The Bulldogs were unable to hold that lead when the Kingsmen picked up their pace.
After some strong defensive stops by sophomore guard Robert Ambartsumyan with his game high of three steals, the Kingsmen gained some much-needed energy. Junior guard Caleb Richey also had a game high of 13 assists and brought the team back with his ball distribution. One pass found the hot shooting hand of senior forward Wolfgang Wood who led the Kingsmen with 28 points.
"I just come off and do what the coach tells me to do, bring energy on defense and offensively keep the ball moving," Ambartsumyan said.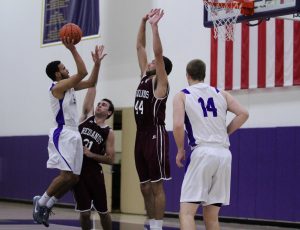 With heavy ball movement and lack of defense from the Bulldogs, the Kingsmen went on a scoring run and ended the half with a 23-point lead with the score 51-28. The Kingsmen shot 50 percent from the field at the end of the half.
"The last couple games we've come out slow and we got a couple of key rebounds, and we were able to get out and run which really helps our transition basketball. Once we got the stops we were able to push the ball," Head Coach Geoff Dains said.
The Bulldogs came out hot in the second half shooting 54.8 percent from the field and 53.3 percent from three-point range, and were able to cut down the deficit the Bulldogs created. This was in large part to sophomore guard Trevor Baker, who had a game high of 33 points.
"We gave up a 23-point lead, we can't do that against great teams especially in our conference," Richey said.
With 48 seconds left to go in the game, Redlands erased a 23-point halftime lead and was down 82-80.
The Kingsmen were able to seal the game with a late three-pointer from sophomore guard Kyle Ferreira and pull out the victory 85-82.
"I've been doing this 21 years, and you take a W in this league any chance you can get. I'm satisfied we got the win," Dains said.
The Kingsmen will be on the road for their next game Jan. 28 at 4 p.m. against Chapman.
Dillon Brown
Staff Writer