Cal Lutheran Under a Spell
On Jan. 27 in Soiland Arena, hypnotist David Hall hosted an interactive show in which a number of California Lutheran University students participated. This was Hall's second time at Cal Lutheran, as he performed at the previous hypnotist event last year. It was a part of the Associated Students of California Lutheran University Government series.
Those who wanted to be put under hypnosis sat on stage while the audience played 'Cards Against Hypnotism.' Whoever caught Hall's Frisbee decided what would happen to the participants under the spell of hypnosis.  They were given a suggestion card in addition to a card with two possible outcomes. This interactive element made the event different from Hall's previous show at Cal Lutheran.
At the beginning of the show, Hall left it up to the participants to decide whether or not they would be influenced by hypnosis.
"If you do not want it to happen, you can resist it and it will not happen. It's entirely up to you," Hall said.
On stage, Hall told the participants who were hypnotized  a series of scenarios for them to act out. First, they were told that they were relaxing on the beach. Next, he informed them that they won a generous amount of money from slot machines in Las Vegas, Nevada. The participants then competed in a dance competition after being told that they would go on tour with their favorite celebrity if they won.
Freshman Jordan Erickson described his experience under hypnosis.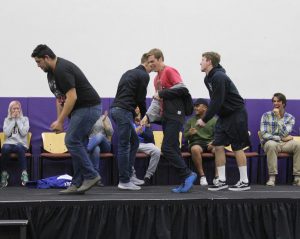 "I felt really relaxed. I was in the [arena], but not really. I knew in the back of my head that there was an audience, but I was really focused," Erickson said.
Hall said that those who are under hypnosis are aware of their surroundings, but they are in a relaxed state of mind.
"I wasn't really sure if it was going to work. I've seen shows before and I have seen it happen to other people, but I just didn't know if it would work on me," sophomore Katie Shearer said.
Hall said that one must have a strong will as well as strong concentration in order to slip into a natural trance state.
Hall became interested in hypnotism after he went to a performance at the age of 18. He practiced for six years until he mastered the art of hypnotism.
According to Hall's website, he has received "specialized training in stage hypnosis from the Stage Hypnosis Center in Las Vegas and training in improvisational theater/sketch comedy from Boston's famous Improv Asylum."
His website also said that he has been performing around the world for the past 10 years.
"I like doing a hypnosis show because every time I do a show something different happens," Hall said. "It's fun for me to watch and see what people are going to do because I've seen it so many times, but every show there's always one or two things that I'm laughing about."
Senior Programs Board Representative Jenna Finnerty was in charge of the event.
The show was originally going to take place in November, but Hall was unable to attend, so the show was moved to January.
"We were going to try to find someone else, but everyone loved him," Finnerty said.
She believes that Hall's previous performance was very successful.
After the show, there was a grilled cheese food truck in the Soiland Parking Lot. Also, two students who attended the event won Polaroid cameras.
Programs Board is currently planning "Mr. Kingsmen," which is a male beauty pageant in which four seniors, three juniors, two sophomores and one first-year compete. Finnerty believes it is important to plan interactive events for students. This event will be Feb. 24.
By Kate Artman
Staff Writer