Spring Involvement Fair Features Multiple New Clubs
On Jan. 31, California Lutheran University students gathered together on the Spine for the Spring Involvement Fair. Students visited different tables up and down the Spine, meeting with various club leaders as well as learning about new clubs on campus.
Each semester the involvement fair takes place to give Cal Lutheran students the opportunity to get involved through new events happening on campus. Students could participate in various activities on the Spine, such as testing their vertical jump with Exercise Science Club and testing their plank time with Shape the Lu.
New clubs on campus include the CLU Dive Club, the Robotics Club, IT Club, Stunt Club, CLU Hikes and Students for Environmental Advocacy.
CLU Dive Club's main purpose is to find new divers on campus, get them dive certified, connect them to other divers on campus and participate in scuba dive trips on weekends. President of the club, sophomore CJ O'Brien, began the club this year to try to connect with fellow divers on campus.
"I've been certified for eight years now, and it's my favorite thing to do," O'Brien said. "I don't really know a lot of other people that do it so I wanted to try and connect with other people that are also interested in becoming certified."
Fellow new CLU Dive Club member, sophomore Olivia George, decided to join the club and also get certified along with 30 other Cal Lutheran students.
"I'm excited to meet new people that also want to dive and I'm excited to get certified," George said. "We're going to have some trips to Catalina Island to go diving, and I've never been to Catalina, but I really want to dive there. That's probably what I'm most excited about," George said.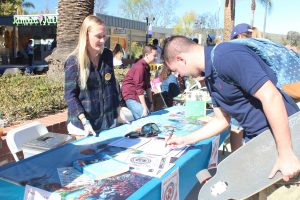 Among other new clubs on campus, another club highlighted at the Spring Involvement Fair was the Robotics Club, run by president Sheryl Zelaya.
"I'm a computer science major so I really wanted to start a club where I could do more science and technology stuff, and robotics is a great way because it's very intuitive for computer science people, but anyone can join," said Zelaya, who lists one of the main projects as educating and entertaining others, as well as developing robots.
Zelaya also lists some of the club's main goals as helping to teach middle school and elementary school kids how to build X-Robots, how to do 3D printing, have a lot of fun overall and network with other local robotics clubs.
Both the CLU Dive Club and the Robotics club are now taking new members participating in monthly meetings and activities on campus. All of the new clubs can be found on the CLU club campus directory available on the Cal Lutheran website.
Alexa Barnes
Staff Writer