Sustainability Becomes a University Priority
In spring 2016, California Lutheran University President Chris Kimball signed the Second Nature Climate Commitment integrating carbon neutrality and resilience, prompting new efforts for sustainability in addition to ongoing campus projects.
Victor Thasiah, assistant religion professor and co-chair of the University Sustainability Committee, said, "Because he [Kimball] on behalf of the university committed us to carbon neutrality and resilience, we are now beginning to organize all the sustainability work that happens on campus under those headings."
Thasiah said this work includes monitoring transportation, grounds, buildings, food and even the teaching of curriculum on sustainability.
The newest sustainability projects at Cal Lutheran include electric vehicle charging stations, re-landscaping, a battery recycling container and a new Leadership in Energy and Environmental Design (LEED) Certified building.
The charging stations, to be completed by the end of February, were partially funded by a $14,000 grant from the Ventura County Air Pollution Control District at a net cost of $3,000, said Mark Jacobsen, Director of Facilities Management. He said they will be available to students, faculty and staff.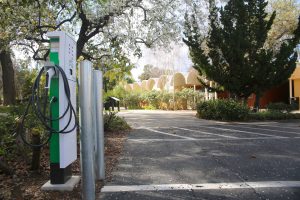 To conserve water, the university landscaping has been updated, particularly through the replacement of grass with free mulch recycled from tree trimming contractors in spots other than "key turf areas," Jacobsen said.
The updates at the corner of Olsen Road and Mountclef Boulevard were funded by another grant of $25,973 from the California American Water Company, leaving a cost to the university of $9,027, Jacobsen said.
Mostly due to these changes, the university has saved 40 percent of its 2013 base line water use, Jacobsen said. In addition, he said there are plans to add native plants to the wood-chipped areas which require little to no water.
Another ongoing project involving sustainability is the construction of the William Rolland Art Center for multimedia digital arts, which will be a LEED certified building. It will have features such as a variable refrigerant flow (VRF) system that allows the heating and cooling of different sections at different times to save energy, according to the general project narrative.
Samuel Thomas, assistant religion professor and member of the University Sustainability Committee, said in an email interview the SEEd Garden has had a vermicomposting program in the works since last fall. They began adding food discards from the Ullman Commons in November, and will soon have compost available to fertilize the garden, as the process takes several months.
Thomas said student Jacob Derksen approached him with the idea, and they pursued a grant from the City of Thousand Oaks. They hope to eventually bag, sell or donate the compost.
Thasiah said there are many ideas which come to the committee, but there are "limited human resources" to execute them. He said the university could use a staff member coordinating sustainability full-time.
"We really believe that the position would pay for itself," Thasiah said.
Pastor Melissa Maxwell-Doherty served on the  Sustainability Committee before becoming vice president of Mission and Identity last fall. She said sustainability is tied to Cal Lutheran's affiliation with the Evangelical Lutheran Church in America which has made statements on "care of the earth."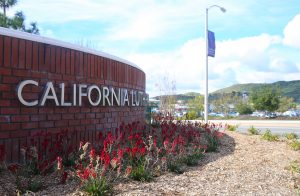 "How we eat, how we purchase and how we vote are all things that matter," Maxwell-Doherty said.
Ryan Van Ommeren, associate vice president of Planning and Services and a co-chair of the committee since it informally began in 2008, said there have also been many smaller-scale "repair and replacement" projects to sustainably update facilities. These include installing energy-efficient glass, capturing gray water from residence halls, replacing lighting in the gym and updating the air conditioning in Pederson Hall over the summer.
Jacobsen said the Facility Operations & Planning office has three student worker positions open that can involve overseeing various sustainability projects the students are interested in.
Thasiah said students hold a large amount of power in getting the university committed to sustainability, and must advocate for it in order for the university to respond. He encourages them to begin practicing leadership in this area now.
"I think that our mission as a university is [to] develop leaders for a global society. It can't be that we do some learning here and the expectation is that somehow it's going to translate into leadership later," Thasiah said.
At the end of this school year after taking an inventory of the university's emissions, the committee will create a realistic timeline to zero emissions, which Thasiah said has symbolic significance, setting a goal to strive for.
By Dakota Allen
Staff Writer