Five to a Room in Fall 2017
February 7, 2017|35 Views
Two of California Lutheran University's first-year residence halls are scheduled to undergo extensive suite reconfiguration beginning in summer of 2017 to accommodate for an increased number of prospective first-years in the fall, according to Residence Life.
Pederson and Thompson Halls are the only first-year halls that will be remodeled, with the final product expected to be like the layout of exclusively first-year hall South Hall, with five students in a suite.
Director of Housing Operations Nate Fall said this is not the first time Pederson and Thompson have housed five first-years in one suite. Cal Lutheran saw both residence halls house 5 people to a suite for a total of six years, intermittently over 2000 to 2010.
"It has been done before," Fall said. "The reason why [Residence Life] chose to do Pederson and Thompson at the same time is because we wanted to give more students the opportunity to live there that actually want to live there."
It is unknown when construction is set to officially begin, but plans for new furniture and organization methods are already underway.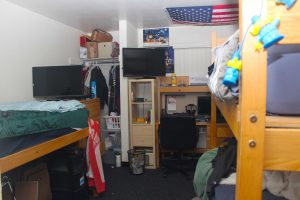 Currently, Pederson and Thompson are the most popular first-year residence halls among first-year students, according to Fall. One of the main reasons Residence Life is going forward with renovating the two buildings is to make sure first-year students live where they want to, and not have a "lesser experience because they live in Thompson with five to a room," Fall said.
Shayna Perry, the graduate resident director of Thompson Hall and Kramer Court, said first-year housing is particularly important in Cal Lutheran's mission to build community.
"My hope is that with more residents in the halls, no student will go feeling like they don't have someone to hangout with," Perry said. "We will keep informing students and the incoming class too, so they will know exactly what the community is going to look like here."
Once finished, Pederson and Thompson will have a bunk bed and loft in the larger bedroom, and two beds in the other, Fall said. The loft space will include a built-in closet and storage space underneath, with the existing closet remaining intact for the other two students. All desks will be removed from the living space and a built-in work station will take the place of existing living room furniture to maximize space in the suite.
The changes that will be made to Pederson and Thompson will be permanent, Fall said. Additionally, the furniture that Residence Life has chosen, in partnership with the Facilities will be permanent.
After the scheduled renovations in the summer, Pederson and Thompson will have a similar residential layout to South Hall, a dorm on the west side of campus that can house about 78 first-years. South Hall is in its second year of being an exclusively first-year dorm at five students to a suite, with 14 five-person suites and three four-person Residence Assistant suites.
"When we chose to put freshmen on the west side of campus, we wanted to make sure they still felt like there was a good community among peers," Fall said. "By bringing five [people], it put that many more freshman over there, not just a small pocket that felt like they were being left out from the 'true freshman experience' in Mt. Clef, Pederson and Thompson."
When South Hall was made into a first-year-only building, Fall said Residence Life took steps toward making the living experience as streamlined as possible.
Junior Jordan Frank lived in South Hall when it was transitioning into a first-year-only residence building.
"I always felt really lucky that we even got to have a suite-style living arrangement with our own living space and bathroom in the first place," Frank said. "Space wise, adding another girl would've been manageable and it would've been nice to get to know another person."
By Olivia Schouten
Staff Writer