On the night of Feb. 10 the California Lutheran University Kingsmen volleyball team showed team chemistry in their win against the El Camino Warriors 3-1 (25-21, 25-17, 20-25, 25-22).
The Kingsmen were off to a good start with kills from senior middle back Mike Campbell.  A huge asset in the back row defensively was senior libero Jamal Balkhi, who was key in the passing game for the Kingsmen.
With eight kills in the first two sets and combining on multiple blocks with Campbell, senior opposite hitter Mikey Esper came onto the court with the hope of getting another win after having a week of practices focusing on game-like situations.
"Coach was helping us minimize our errors," Esper said. "We had great team chemistry that game and it helped us play better today."
Winning the first two sets and losing the third, the Kingsmen fought back against the warriors and tallied up multiple kills from Campbell and freshman outside hitter Patrick Rowe. The Kingsmen fell short 20-25 at the end of the third set. Coming back to fight in the fourth set, the Kingsmen propelled forward to win the set 25-22 and ultimately the game.
"I feel like the game went really well tonight, the passing was really stellar and our serving was really great," freshman middle blocker Justin Dietrich said.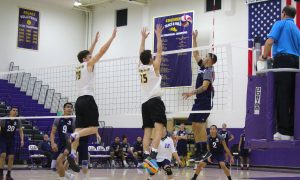 Key components for the Kingsmen included strong defense and major passing in the back row from Balkhi as well as strong passing and multiple kills from Rowe. Dietrich also tallied up 10 kills for the Kingsmen.
After adding another victory to its season, Head Coach Kevin Judd was proud of his team's performance against El Camino and is focusing on games to come.
"Preparing this week was all about preparing to play well and reducing our errors. We needed to play within ourselves, and the guys have been doing a much better job in doing that," Judd said.
Looking forward to the future, Judd is excited to continue to grow as a team and said that chemistry is a huge part of what makes this team great.
"Our upper classmen have accepted this year's incoming freshmen class, there's good energy there," Judd said.  "I love the chemistry I have with this year's team."
The Kingsmen look to continue this chemistry when they host Hope International Feb. 16 at 7 p.m. in the Gilbert Arena.
"All of the guys, we click so well together, and everyone has such a positive attitude, everybody is so much more confident and optimistic towards everything," Esper said.  "I'm really excited to play better as a team, and to keep playing more games with them."
Alexa Barnes
Staff Writer