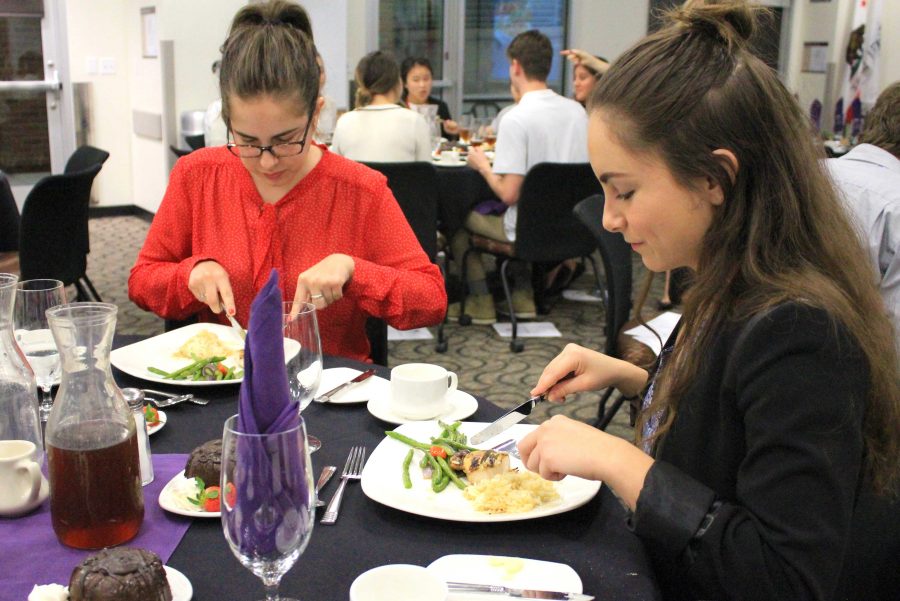 On Feb. 9, California Lutheran University hosted a dinner to teach students proper etiquette with Lisa Gaché of the company Beverly Hills Manners. Students were taught things like which fork to use in a multiple-course meal and how to properly hold one's silverware when at a meal.
But the event wouldn't have come together if it weren't for Ashley DesLauriers.
"I'd never planned an etiquette dinner before, and so when I took on this position, I knew that was gonna be one of the expectations that I had," DesLauriers said. "When I started planning, my first step was to research 'how do you even throw an etiquette dinner?'"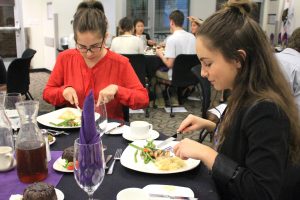 DesLauriers was able to find Gaché's company, and they were very accommodating with the specifications of the university, namely the negotiations of Cal Lutheran's budget.
The dinner itself started with Gaché praising the university for taking a step to make proper table etiquette important, as she said that manners were like tools that can be used to help in a variety of situations.
Next, Gaché made a point of teaching the assembled men and women chivalry, at least in the area of seating. Before being seated, women should stand to the right of their chairs. Men should pull the chair out with two hands, make sure the woman is seated and then politely push her chair into the table.
Once seated, napkins should be folded in half in one's lap with the fold facing one's body. Meanwhile, bread should be broken into bite-sized pieces and buttered in the order they're eaten. For salads and main courses, the knife should be held in one's dominant hand, with an index finger at the base of the blade. The fork should be held tines-down with a finger at the base of tine-end of the handle, and the tines faced downward toward the food.
Finally, dessert should be eaten with a spoon in one's dominant hand and the spoon should be used for cutting the dessert into bite-sized pieces.
Gaché offered words to remember the location of items on the table, such as "BMW" for bread in the top left, meal in the center and water at the top right. "DRINK" with "DR" indicates that the drink should be on the right, "CLEAR" for the fact that food should be cleared on the right and the three B's for toasting: Begin, Be Brief and Be Seated.
Around 20 people took part in the dinner, including two students from Byron Bay, Australia: junior Jamie Nicholson and senior Arial Evans. Both decided to partake because they had never experienced an etiquette dinner before and wanted to learn some practical skills in a unique setting.
"It just sounded interesting," Nicholson said. "And I guess it's something that you can use in the future."
Evans agreed with Nicholson about why she attended the event, also adding that she thought etiquette would be a cool thing to know and she also appreciated the table settings.
Additionally, the two said that they weren't surprised by what they had learned at the event, since Nicholson didn't know what to expect, while Evans said that she paid attention to magazines and had a general idea of the design of a proper table.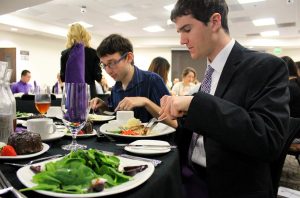 Junior business administration major Grant Bagne, who said his favorite part of the event was the food, came to the event dressed to impress, wearing a full suit for the etiquette dinner.
"I saw the HUB post, and it said business professional, so I decided to dress appropriately for this," Bagne said.
As for Gaché, she hoped that students saw the value in etiquette skills, and how they can be utilized in life.
"[Etiquette skills and table manners] are not skills that are highfalutin or unnecessary, but that they are every day, and that they really make a difference in how we can enjoy the dining experience," Gaché said.
Henry Studebaker 
Staff Writer