Trump's Ban Hits Home for CLU Student
February 14, 2017|18 Views
Dara Kashani is a senior at California Lutheran University who grew up in Iran, one of seven nations listed in the temporary immigration ban by the executive order of President Donald J. Trump.
Kashani lived in Iran up until coming to the United States six years ago for his education. He is currently in his third year at Cal Lutheran, which he chose to attend for the atmosphere of a small university and because he heard about the tennis program led by Coach Mike Gennette, who Kashani said is well known across the country.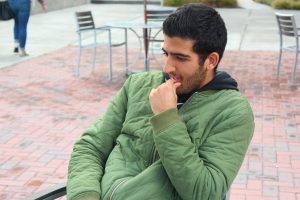 "I really like the smaller campuses better so I came here and visited and I really liked the culture and social life," Kashani said.
Kashani has played on Cal Lutheran's tennis team for three years and is serving his second year as team captain. He said much of his life at Cal Lutheran involves school, practice or spending time at the Center for Entrepreneurship, since he is studying business with an emphasis in entrepreneurship.
Mike Panesis, the executive director for the Center for Entrepreneurship, said Kashani is curious about the world, friendly and easy to talk to. Panesis also said Kashani is a natural entrepreneur, always thinking of new startup ideas.
Panesis said it is easy to take this country for granted when you are born and raised here.
"[Kashani] seems to have this extra appreciation for what the country has to offer, yet still loves where he came from," Panesis said.
Although his closest family lives in Iran, which he visits during summer and winter breaks, Kashani said he has many relatives, including his sister, who live in the U.S.. He said his family is open-minded, and he visited the U.S. while growing up.
After living in the U.S. for six years, Kashani said he considers himself partially American, and feels "no hate" for the country because of the ban.
"Because of one person's action, you shouldn't judge a whole country. My people don't judge America because the president made one decision," Kashani said.
He also said he has not been directly affected by the ban in the way some friends and family have, such as those who wanted to visit Iran or were looking for student visas and got rejected.
The immigration ban has been blocked by the United States Court of Appeals for the Ninth Circuit. However, President Trump has seemingly announced he will fight the decision in court, according to New York Times reporter Adam Liptak.
Although the ban may not have affected him and is no longer in place, Kashani said it gives a feeling of "not belonging."
Kashani said professors, coaches and the Cal Lutheran environment have been very kind to him during the past few weeks.
Paul Witman, a professor of Information Technology Management at Cal Lutheran, taught an Information Systems course with Kashani in spring semester 2016. He said Kashani is a "thoughtful, engaging student" who had cultural contributions to make at times, such as in a discussion of how culture, language and other factors still matter in a global business world.
Witman also said Kashani has some planned business ideas and was able to apply class concepts to what he is passionate about – tennis.
Kashani said following graduation this spring he plans to get a Masters of Business Administration at Cal Lutheran, use his final year of tennis eligibility and "hopefully do big things with my team."
Dakota Allen
Staff Writer