Solo Driver Suspect in Four-Vehicle Accident
February 14, 2017|13 Views
At approximately 7:20 p.m. Feb. 13, police responded to a four-vehicle accident on Faculty Street in Thousand Oaks near Thompson Hall, a first-year residence hall.
A solo driver in a dark GMC Acadia was attempting to parallel park when his foot slipped off the brake and he accelerated in reverse, hitting a white Honda CR-V and causing it to swerve across the street and up the curb. The suspect driver continued in reverse before hitting a tan Volvo XC 70, pushing it up onto the hood of a Buick Regal. Both the Volvo and Buick are owned by a resident living on Faculty Street.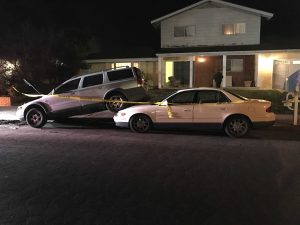 Deputy Gerolomi Rinaldi and his partner Deputy Juliane Nesgis responded to the call.
"We got a call of a four-vehicle accident. It came in as an injury accident but we later determined that no one had been injured. All of the victim vehicles had been parked and they were unoccupied, and we just had one solo driver of the suspect vehicle," Rinaldi said.
Alex Egertson, California Lutheran University commuter and resident on Faculty Street, owns the white Honda CR-V involved in the accident.
"I was at the gym and I noticed my car had vanished," Egertson said. "My wheels were a little twisted, I do that out of habit, and that sent my car [across the street]."
Egertson said the suspect driver was an elderly man reportedly in attendance at a Scandinavian Center event.
"He doesn't really know what happened," Egertson said.
Campus Safety Officer Favian Gonzalez was dispatched to the scene to wait for police reports. Gonzalez said homeowners called Campus Safety shortly after the authorities were notified.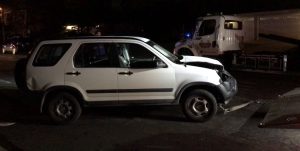 Howard Rockstad, a witness who had parked his vehicle along Faculty Street, also gave his statement to the police.
"I had just parked, and had gotten out of the driver's side door," Rockstad said. "The car that caused the trouble went into reverse and just stayed in reverse."
Tow trucks arrived for the Honda CR-V and Volvo XC 70 at approximately 8 p.m. and the scene was cleared about an hour later at 9 p.m.
Molly Strawn
News Editor