Serve the Homeless With Habitat for Humanity
If you give a college student a cookie, the student is going to build a house. If the student builds a house, a family gets a home.
On Feb. 15, cookies were distributed on the Spine to spread the word about a Multi-Faith Build Day through Habitat for Humanity which will take place Saturday, Feb. 25 in Santa Paula.
"Decorate your own cookie so you decorate or build someone else's house" was the idea behind the Cookies for Humanity tabling, said sophomore Community Service Center marketing intern Laura Willits, who came up with the idea for the promotion.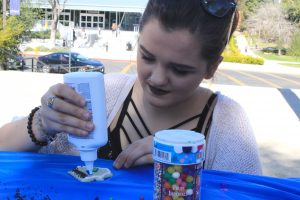 Willits was approached by Amanda Oyao, a sophomore at California Lutheran University and the off-campus community service intern coordinating the event, for ideas on how to advertise and get people to sign up.
Willits said she made about 38 house-shaped cookies and on the day of, students who were interested signed up for the build day after leaving the table.
The build day is from 7 a.m. – 3:30 p.m. with lunch and transportation on a bus to Santa Paula provided. Because the bus seats 40 people, Willits said that is the number of volunteers they are trying to reach.
At the event, different speakers of different faiths will be presenting. The event will likely include one of the campus pastors, senior Mehak Sachdev said, who is working her fourth semester as the Interfaith intern.
Sachdev said Interfaith Allies, an on-campus organization for inter-religious interaction of faith and non-faith groups, is co-sponsoring the event because the Community Service Center held a build day in November, and Interfaith Allies wanted to do a similar event.
Oyao said they want to bring together people of all religions. Interfaith Allies and Community Service Center ended up "meeting in the middle," Sachdev said.
At the build site, the speakers will be asking questions regarding views on different faiths so the event will reflect "not necessarily one religion but whatever you feel," Oyao said.
Volunteers will be working at Trinity Lane, an eight-home Habitat for Humanity building development where houses will either need to be constructed or painted.
"No matter what faith we come from, we're all going to be working on the same project together, and we all have the same goal in mind, to complete this project and eradicate the homelessness in our community," Sachdev said.
Sachdev also said since most events hosted by Interfaith Allies are dinners and discussions, such as the Diwali Dinner which she coordinated this past fall, she looks forward to adding a community service component.
Lisa Hernandez and Hailey Schaffner, both freshmen at Cal Lutheran, signed up together right after stopping by the Cookies for Humanity table.
Schaffner said when she looks at big buildings, she "always think[s] about the little people that built them."
She always wanted to be able to make something like that herself for people to use, and thought it would be "a fun thing to do on a Saturday" with her friend.
Hernandez said she has never helped construct a house before through an organization like Habitat for Humanity, so she is looking forward to learning what it takes to build a house, serving others and meeting new people.
Anyone who wants more opportunities to serve like the build day can stop by the Community Service Center in the Student Life office at the Student Union, go to the GivePulse page or email [email protected].
Any student who wants to sign up can go to the event on the Cal Lutheran HUB Calendar and register through the GivePulse community service site.
Sachdev said Interfaith Allies will be hosting a Come Together Now dinner in March and five days of events for the Better Together National Interfaith Week.
In the words of Willits, "One of the best ways to de-stress is by helping others and making people happy."
Dakota Allen 
Staff Writer