The California Lutheran University track and field team is comprised of 62 athletes, ranging from 100-meter sprinters and 1,600-meter long-distance runners to pole-vaulters and discus throwers.
Head track and field Coach Matt Lea said in an email interview each team member works toward qualifying for the individual and team overall Southern California Intercollegiate Athletic Conference Championship.
"We always have team and individual goals throughout the season," Lea said in an email interview. "As a team you always want to win a title, and that will always be our main goal as we enter any season."
Senior sprinter Chris Aguilar runs through the emotions of a track and field meet just as fast as the race itself, saying that the competition is a balance of lighthearted fun and serious concentration.
"I treat the race as if it's practice," Aguilar said. "Because if I get nervous about it, I'm going to be very anxious [while competing]. I get in my zone and make sure I'm putting the intensity into the craft."
The Regals collected two SCIAC championships in 2012 and 2014 and saw seven athletes crowned as SCIAC individual champions in those seasons.
The 2016 season saw four Regals finish with an individual championship title, and documented 17 new personal and program records all around. The women's team placed No. 3 in the conference in 2016.
Kingsmen track and field gathered three SCIAC individual championships in 2015 and 2016, and placed in the top six SCIAC universities for track and field champions in the 2016 season.
Cal Lutheran distance runners and high jumpers competed in the Sunshine Open meet Saturday, Feb. 4 at Westmont College in Santa Barbara, California. The event was considered a preseason meet and was not a SCIAC Multi-Dual, Lea said in an email interview.
Lea said in an email interview that SCIAC meets are typically shorter than invitational meets, a competition where athletes from all college divisions are welcome, and only include teams from the Division III conference.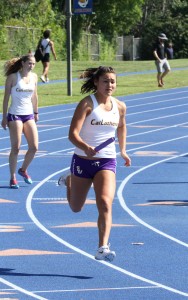 Lea said in an email interview that the long-distance team and high jumpers competed in the Feb. 4 meet before the rest of the Cal Lutheran team because the sprinters are still practicing "explosive racing."
"I don't usually like to open up my sprinters to a meet that early [in the season]," Lea said in an email interview. "It's a good meet to get the distance runners out there to loosen some of the cobwebs, and for the high jumpers as well in such a technical event."
Sophomore jumper and sprinter Kelsey Rouse participated in the Feb. 4 meet and broke her personal high jump record, her first broken record in over four years. Rouse said she has been competing in track and field for 14 years. She participates in high jumping, long jumping, hurdling, sprinting and throwing events, and is working toward becoming a heptathlete. Her love for the heptathlon, a combined events contest made up of seven track and field events, was inspired by her brother, a Cal Lutheran alumnus.
"I think a personal goal for this season is to qualify for a National Championship in long jump," Rouse said. "You have to be in the top 27 athletes in the nation, so I have to jump around 18 feet 6 inches and last year I jumped around 17 feet 7 inches."
Rouse said she will be throwing shotput for the first time in the upcoming meet, and will kick off the regular track and field season with her first long jump since the 2016 season.
"I think as I've progressed, I've grown to do shorter distance because I realized I was better and faster in it than long distance," Rouse said. "I've always jumped, but every season I like to change what events I focus on to keep it interesting."
The Cal Lutheran track and field team has a lot of incoming talent from all over the nation, Aguilar said.
With a new wave of freshmen athletes, Aguilar said he is hopeful that the Kingsmen and Regals can make it to the SCIAC Championships and bring home a title.
"We have a very young team," Aguilar said. "The start of the regular season is going to be their first collegiate track and field meet, but we have good talent this year and [the meet] will kind of help determine where everyone's at."
The Cal Lutheran track and field teams were scheduled to travel to the Pomona-Pitzer All Comers meet Feb. 18. but because of extreme weather in the area, the meet was cancelled. It would have been the first meet of the regular 2017 season, and the first all-team competition.
Aguilar said he would have only run in the Men's 4x400m relay, due to an out-of-season injury. Rouse said she would have begun her shotput career and participated in both high jump and long jump events.
The Kingsmen and Regals will officially begin the 2017 track and field season Feb. 25 at the Rossi Relays at Claremont-Mudd-Scripps at 11 a.m.
Olivia Schouten
Staff Writer