Large Pacific Storm Hits Southern California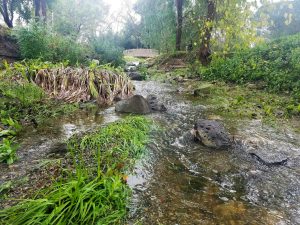 Over the weekend, Southern California saw the largest storm it has seen in over a decade. In one weekend, the area got about 3.5 inches of rain. This is the first storm in over a decade that has come from the Equator, beginning over the Pacific Ocean.
On Feb. 17, the creek running through Kingsmen Park overflowed, flooding the park area surrounding the creek as water rushed through the campus. The creek in Kingsmen Park shows flattened plant life from the strong water the day prior.
Photo By P.K. Duncan
Staff Photographer
Caption By Molly Strawn
News Editor