In front of a crowd filled with family, friends and fellow students for Senior Night, the California Lutheran University women's basketball team took on Cal Tech Feb. 21.
The night that was filled with action. On the court they began with a ceremony honoring the six seniors who would be playing in their last regular season game of their careers.
"I tried not to think about my emotions because I knew I would break knowing that I had to leave my team soon, so I was just worried about the game and made sure I stayed focused," senior guard Janelle Porter said.
The Regals were on the scoreboard first as senior guard Sofia Cruz took a ball to the basket and finished an uncontested layup. The Regals didn't look back from there on out as they held a lead for the entirety of the game.
"I just wanted to go out there and have fun. We had some pretty good offense and I feel pretty good about it," Cruz said.
At the end of one the Regals held a 24-8 score, and that 24th point was an exciting one as Cruz hit a buzzer beater after sophomore guard Grace Derksen hustled to save the ball from going out of bounds.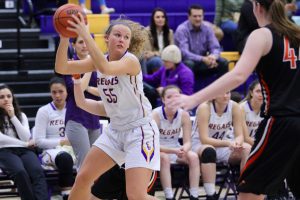 "We talked about finishing strong. We shared the ball extremely well and were able to get locked in defensively and get some rebounds," Head Coach Lindsey Goldblatt-Samaniego said.
As the game went on the Beavers had no answer for the constant bombardment the Regals were giving them. The Regals hit a game-high 15 three-pointers, which allowed them to continue to create separation.
Junior guard Kiana Gray was one of the key contributors to the game-high as she came off the bench to hit five three-pointers to total 15 points for the night.
As the fourth quarter started, the Regals held a 25-point lead and eight of those came from senior guard Katy Lindor whose hard work showed the Regals came to play.
"I think we played awesome as a team. There were so many people that stepped up and hit shots," Lindor said.
The Regals were able to add 21 more in the fourth and that brought the game to an end. The Violet and Gold took down Cal Tech by a score of 85-57.
This win allowed the Regals to finish the season with and overall record of 16-9 and a 12-4 conference record.
"Definitely going to miss the family connection. I'm going to miss being able to go to my team for literally anything," Porter said.
"It's like stepping away from your family after this is all done. We spend so many hours together. I don't know if there's a specific thing I'll miss. Even the hard stuff the weights and all that stuff we hate in the moment. I'm going to miss all that," Lindor said.
Goldblatt-Samaniego who came in the same year as the seniors graduating now had a message for her players.
"I'm really proud of them. I just want them to be the best they can be and always know that it takes hard work to get to where you want to go and I think they understand that, so if they continue to do that I know they are going to do great things," Goldblatt-Samaniego said.
The Regals will progress into the Southern California Intercollegiate Athletic Conference Postseason tournament where they will play Chapman away Thursday, Feb. 23 at 7 p.m.
Gabriel Naudin
Staff Writer