Probing Future Foods: Four Archetypes Of Ethical Eating
February 28, 2017|8 Views
On Feb. 21 inside Samuelson Chapel at California Lutheran University, Paul B. Thompson, professor of agricultural, food, and community ethics at Michigan State University gave a lecture about four archetypes for future food systems.
The four archetypes or patterns Thompson discussed were technological modernization, extensification, sustainable intensification and urban agriculture.
Thompson said that extensification is expanding land for food production, farmers markets, food hubs, schools and for producers to network with consumers.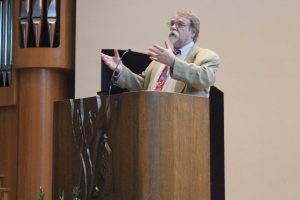 The goal of sustainable intensification is to increase efficiency on production, Thompson said.
Thompson's approach to educating people about food systems might reach more people due to its ability to open up dialogue between people.
"I think an ethical problem in his technological modernization archetype is the technological treadmill he talked about, in a way the rich get richer, the big farms that have a lot of resources and money are able to adopt technology quicker and make more money, and the smaller farms get left behind," said Brian Collins, assistant professor in the Philosophy Department at Cal Lutheran.
As for urban agriculture, Thompson said the motivation is food security.
"I think it will produce a better public dialogue that is more informed about the various directions our food system might go and some of the values that are driving it in one direction or the other," Thompson said. "I wouldn't want to predict an outcome for the future. My sense is we have all of these things that work, and whatever happens will be based on the contest of whichever system captures the public's imagination, whichever one gets the financial support and it has to have a vision that people buy into."
Collins' research specializes in political philosophy and ethics.
"I have an ethical interest in food because it is something that we deal with every day and it's a set of ethical questions that everybody can connect with," Collins said.
Collins teaches a number of courses at Cal Lutheran, one being Social Ethics.
"Thompson did not take a firm position in his lecture, but gave four alternatives and pros and cons for each," Collins said. "It's worth emphasizing that his goal was to not come down firm on one side but to say this whole issue is very complex and there's a lot of ethical issues involved."
Collins also said an issue in the extensification archetype is "whether or not the expansion of land for agricultural food is sustainable on a national or especially a global level. In many ways it seems like it won't be able to so it pulls you back to the technological and industrial ways of producing food."
Collins said that in the end it comes down to people's ethical priorities, animal rights, social and environmental justices to make sure people have the right amounts of food obtained in ethical ways.
David Brown
Staff Writer