The California Lutheran University Kingsmen and Regals track and field teams competed in the Claremont-Mudd-Scripps Rossi Relays Feb. 25.
The track and field season opened with many new additions to the team, showcasing their hard work and many returners competing as they never have before.
Senior sprinter Chris Aguilar competed in the men's 100-meter event with a final time of 11.90 seconds. Despite the fact that he was still recovering from hernia surgery, Aguilar finished only 0.3 seconds past his seed time.
"I felt good warming up. When it came to actually running up, I felt pain and it threw off my entire race," Aguilar said. "Coach and I decided not to let me run the 4×4."
Junior runner Timmy Kahovec subbed in for the men's 4×4 event in Aguilar's place. Sophomore thrower Alexa Barnes broke her personal record in the women's throw event. Freshman sprinter Obassi Dees shined in the men's 100. Junior jumper Wendell O'Brien also performed well along with Dees in the men's 4×4 relay.
"There was a lot of young people so it was cool to see what everyone had to offer," Aguilar said. "They've been putting in the work in the weight room and on the field. Everyone was working together."
Aguilar also said that he was very impressed by the relay teams during the meet, especially the individuals on the women's 4×100 relay.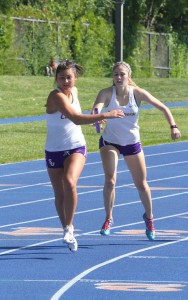 "Both Anna [Schlosser] and Ana [Cordoba] had a really good relay," Aguilar said.
Junior sprinter and jumper Anna Schlosser competed in five events throughout the Rossi Relays. Her events included the women's 100, javelin, high jump, 4×100 relay and shot put.
"I started out with shot put and high jump. I was nervous because it was only my second time doing it. My coach was like 'you're not going to improve every time. You have to remember that,'" Schlosser said. "But I really wanted to improve and I really wanted to get five feet."
Schlosser's previous high jump personal record was 4 feet 10 inches from the Westmont Sunshine Open Feb. 4. Schlosser cleared five feet on her third jump at Rossi Relays, setting a new personal record.
Freshmen sprinter/jumper Kendall Guidetti, freshman sprinter Sarah Dearborn and freshman sprinter Ana Cordoba competed in the women's 4×100 relay with Schlosser.
Schlosser said that the second to third pass off went very well but the third to fourth hand off was rocky.
"Even with that hand off, we still got a 49.50," Schlosser said. "Last year, we opened with a 50.5 so we're already starting this year off going a second faster."
Schlosser was moved up from the second flight to the first flight of the women's javelin because she had to run the 100 right afterwards.
"Everyone was really nice so they really help you. I've only practiced javelin three or four times so I tried to get it as far as I could," Schlosser said.
Schlosser only had to complete a three-step approach in javelin instead of a full approach, which starts with a run and crossovers.
"I had to scratch my last throw so that I could quickly go to my 100-meter," Schlosser said. "I didn't have much of a warm up because I had been running around all day."
In the third heat of the women's 100, Schlosser ran in 13.40 seconds which beat her seed time of 13.10 seconds.
"Overall, I felt like it went very well. I did what I expected to do which was get out there and get used to the atmosphere so that I can take it more seriously," Schlosser said. "From here on out, it's only going to get better."
The Kingsmen and Regals will be competing in their first Southern California Intercollegiate Athletic Conference Multi-Duals against Cal Tech and La Verne March 4 at 10 a.m.
"I know we're going to have a great year. Everyone is putting in the work," Aguilar said. "I see us making it to SCIAC championships and from there, individual nationals."
Brandy Alonzo-Mayland
Staff Writer