iCLU Radio hosted its first open mic event of the semester March 2, where students showcased their talents outside Jack's Corner at California Lutheran University.
iCLU President Caleb Solberg decided to bring back Open Mic Night.
"Open mic night, it was around two or three semesters ago and it disappeared for some reason. I don't know why. I know I wanted to do it and I have a few other musician friends who are in the club who wanted to bring it back," Solberg said.
The event began shortly after 9 p.m. with Bailey Mesa and Nikki Danielle introducing the acts of the night.
First up was singer/songwriter Jeff Baker who kicked things off with a couple of original songs on acoustic guitar.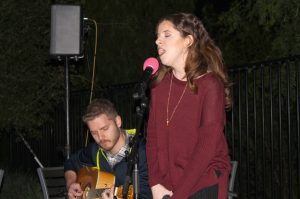 Carina McVeigh joined Baker on stage with another original song that the two apparently wrote five minutes prior to the event.
Up next was singer Devon McNeil and keyboardist Nick Calapine. They played songs on complete opposite sides of the spectrum, yet created a fusion of the different genres. McNeil opened with his interpretation of the rap song "Gatorade" by Yung Lean. The rhythmic and blues-inspired undertones in McNeil's voice converted the new-age rap song into an '80s R&B song.
McNeil brought out his trumpet for a rendition of Charlie Parker's "Now's My Time." All of a sudden, Jack's Corner was transformed into a New Orleans-style jazz club circa 1930.
"I feel really relaxed after that set," Mesa said, taking back the mic.
Next up was singer/guitarist Frankie Hermosillo, covering The Lumineers hit song "Ho Hey." The audience joined in singing the chorus and snapping to the beat, which caused more students to pour in and fill the open seats.
Hermosillo stayed on stage for another song, but chose to perform an original this time. He described the song as being about bitter-slighted lovers.
Singer Michaela Kennedy stepped up to the microphone to perform a cover of Sam Smith's "Stay With Me" with Solberg on guitar. Kennedy also performed a cover of "Girl Crush" by Lady Antebellum.
It was nearing 9:45 p.m. and the last acts included another appearance by country/folk artist McVeigh, jazz pianist Paul Kellogg and rapper/activist Alexander "AJ" Akpodiete, who closed out the night with an original piece on anti-bullying.
"It was super cool," Baker said. "The performers were excellent tonight."
At the conclusion of the event, the crowd erupted with cheers and loud applause.
"Anybody is welcome. Anybody can show up. Anybody can perform," Solberg said. "If they're not sure about if they're ready or not, they can see how they're feeling that night then decide. We want to make sure everybody feels welcome."
Tate Rutland
Staff Writer