How do you catch a college student's attention? Feed them a Sprinkles cupcake! California Lutheran University's community service center put on the Clothes for Cupcakes event, and it caught the eyes of many students.
Clothes for Cupcakes was an event held on March 29, 2017 on the CLU spine where students were able to donate a gently used piece of clothing in exchange for a Sprinkles cupcake.
"We were between cupcakes and pizza but we thought that people would stop by and be intrigued by the Sprinkles," said community service center intern, Ana Sofia Campos.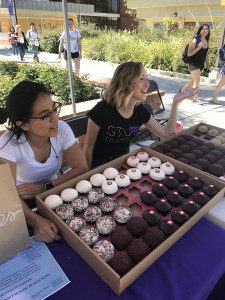 The clothing that the students donated will be given to Destiny Rescue USA, The Heart of Jubilee, and 4Kids2Kids. These are all organizations that rescue and house victims of human trafficking.
"The clothes go straight to the victims, and we are donating local organizations in Oxnard, Moorpark and greater Ventura," off campus community service center intern Amanda Oyao said.
Students lined up at the community service center booth on the spine and put their used clothing in a bin. They were able to choose between eight flavors of Sprinkles cupcakes until supplies lasted.
"I decided to donate because I have a lot of clothes that I don't need and if I don't need it and someone else does, I love to help them," donator Natalie Mendez said.
Many students stopped at the booth to see what they could do to help the cause and get a cupcake.
This event was held to inform students that human trafficking is everywhere, and there are ways to help.
"I think that it is super important to talk about human trafficking in the United States because I don't think that people realize it is a huge issue not only in third world countries, but locally in our community as well," Campos said.
The Clothes for Cupcake event was also put on to promote the Cal Lutheran Hillel's Passover Seder. This event will be held on April 5th at 5 p.m. in the Lundring Events Center.
"What they will be doing at the Passover Seder is making care packages and sending them to different organizations that rescue and house sex trafficking," Campos said.
The Passover Seder is held for all Cal Lutheran students to attend and will be based on creating a world without human trafficking. There will be donation booths and stations for raising awareness about the cause.
Dakota Himmelman
Staff Writer