Three California Lutheran University students share why they decided to chop their locks.
A new buzz is going around California Lutheran University this year since a few female students decided to shave their heads. Each one had their own reason for doing so.
There were students on campus who wondered if the women did it as a new fashion statement or if they shaved their heads to support a cause.
Junior Tori La Rocco shaved her head last semester to comfort a 12-year-old girl from her hometown named Lexi, who was diagnosed with cancer.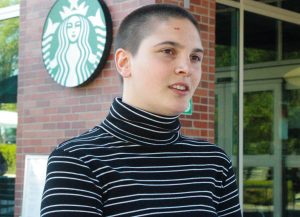 "A lot of people from home [did], because my entire town rallied behind Lexi, so we have a lot of people that shaved their heads," La Rocco said.
Lexi lost her battle with cancer, but La Rocco continues to encourage people to help raise money and donate to fight childhood cancer. As far as shaving one's head, La Rocco said, "I would say anybody who wants to go for it, it is an exhilarating feeling."
Each student had a different response as to why she shaved her head. One reason was simply because of how much easier short hair is to maintain.
"I was honestly really sick of having hair. I had shoulder length hair and then I shaved the back and the underside, but it was under everything so you couldn't see it," said junior Brooklynn Ramos. "I used to be really into styling my hair every single day. I would braid it or do different things with it and the only thing I was doing with it at that point was washing it and I was like, this is boring and I'm really sick of worrying what it looks like or what I'm going to have to do with it today."
Ramos' hair is now growing out since she shaved her head in October, using her new haircut as part of her Halloween costume.
"I also wanted to be Eleven from Stranger Things [Netflix Series] for Halloween, so it was the perfect time," Ramos said.
Currently, she is in the process of growing her hair back out, but Ramos said the experience was positive overall.
"The person who seemed the most concerned with it was my mom. She thought I was doing it because I was having some sort of personal trauma and felt like I had to change, but it was nothing like that at all," Ramos said.
Another student on campus, senior Madi Schmader, still has her head shaved and plans to keep it that way for at least a year.
"I really just shaved my head because I have been cutting my hair shorter and shorter every year and I've always wanted to do this," Schmader said. "Showers are so much fun now, because it's a surreal sensory experience and stuff, but there's really no cause that I was supporting when I shaved my head."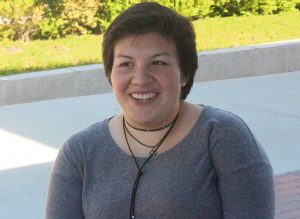 Shaving her head also created unexpected benefits for Schmader because of her interest in cosplay.
According to Merriam-Webster dictionary, cosplay is "the activity or practice of dressing up as a character from a work of fiction."
"I'm probably going to keep it for a while because I cosplay at conventions and for photo shoots. My most recent one is going to be Negasonic Teenage Warhead [Marvel Comics fictional character]," Schmader said. "I was in Starbucks studying and I had a black lip and a black turtleneck and someone from the school took a photo of me and tweeted it saying, 'Negasonic Teenage Warhead goes to our school.' That pretty much sealed the deal for me and I am going to keep this haircut for a while."
Schmader is currently the only one that hasn't started growing her hair back.
"I'm debuting my Negasonic cosplay this weekend at WonderCon. I had planned to [shave my head] for at least another year because it's so easy and people have told me I have the head shape and I like it," Schmader said.
Matt Weisman
Staff Writer