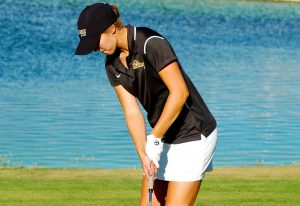 "She is the most motivated and driven person on and off the golf course. She is easily approachable and always available to help. As a teammate she always is there to lift everyone's spirits after a long round with her humor or give motivational speeches," freshman Hannah Pasco said in an email interview.
Being only a freshman, Chloe Barnes has found her in role that places her in position to lift the spirits and motivate her teammates to strive for success. Even team captains such as junior Courtney Martin said they are amazed with her work ethic and leadership capabilities.
"She's one of the most dedicated people we currently have on the team. She'll go out of her way to practice even if it's raining and practice is canceled to continue to work on her game. I know there was one time in particular when we were having a team dinner after Friday practice, but practice was canceled due to the rain and she came to dinner soaked from practicing. That to me, as a captain shows serious dedication," Martin said in an email interview.
Barnes is used to a little rain since she grew up in West Linn, Oregon, a town about 13 miles south of Portland. Barnes has been playing golf since early childhood, and thanks her dad for playing a vital role in her love of the game.
"I've been golfing ever since I was a little kid. It was my dad that really introduced me to the game," Barnes said.
Barnes said she started playing competitively when she started high school and continued in the summer, to certain private tournaments.
Barnes was honored with the Southern California Intercollegiate Athletic Conference Athlete of the Week after her outing at the Battle at Primm golf tournament March 20 and 21. She shot a score of 161 (+17) to finish tied for 35th overall. Barnes carded an 86 (+14) on the first day of competition and improved by 11 strokes for a 75 (+3) in the second round.
"Each round I just focus on grinding out each shot and not worry about the bad shots and the bad holes, you can't let them get to you because it always happens in every round. I just focus on my next shot and trying to make that one better and try to make the lowest number possible," Barnes said.
Golf is a mental game and Barnes has excelled in that aspect of the game. In a sport with a lot of ups and downs when it comes to scores, Barnes has found a way to be consistent in her scores throughout the season.
"She has the ability to manage everything from her full class schedule to a busy golf schedule while keeping her friends and family involved in her life. Chloe's golf game is impressive. Her strength gives her the length to have the opportunity to reach any green, while her touch around greens gives her the ability to score," Pasco said.
The Regals competed in a Southern California Intercollegiate Athletic Conference multi-dual match at South Hills Golf Course. They placed fifth shooting a two-round total of +86 in a par-71 course with a total shot of 332 Saturday, April 8 and 322 Sunday, April 9.
According to the CLU Sports website, "Marissa McCardell tied for 12th with rounds of 83 and 78 to finish in 161 swings while Chloe Barnes and Ally Gaskill placed 15th and 16th, respectively, with totals of 162 and 163. Both shot opening round 82's before Barnes came back in 80 and Gaskill shot an 81 today."
Cal Lutheran will compete in the 2017 SCIAC Championships hosted by Claremont-Mudd-Scripps at Los Serranos Country Club in Chino Hills, California. The tournament goes from Sunday, April 23 to Tuesday, April 25 with tee times set at 7 a.m.
"As a team, where we are at right now, the goal for us is to try and finish top two in SCIAC, and me individually, try and get top five," Barnes said.
Dillon Brown
Staff Writer