Rabbi Michael Writes Christian Services
Over the course of her four years working as the first rabbi in campus ministry at California Lutheran University, Rabbi Belle Michael has gradually entered the role of helping write the university chapel services.
"It actually kind of grows on you. It was very difficult for me at the beginning because I come from a Jewish background, not Christian. I didn't know anything about Christian services," Rabbi Michael said.
For each chapel service, Rabbi Michael said she works with Pastor Scott Maxwell-Dougherty to determine which sections each of them will write in correspondence with the speaker's message.
The components to be written are the invocation, litany and prayer, closing prayer and blessing, and the dismissal.
Every week, there is a different speaker. Maxwell-Doherty said they mainly pull from faculty, staff and students, with no specific qualifications required, because it is a moment for "the faith of the community to speak."
Speakers have included people of multiple beliefs, such as Rahuldeep Gill, a religion professor of the Sikh faith, and the recent speaker on April 6, Sister Leanne Hubbard of the Roman Catholic St. John's Seminary in Camarillo.
Maxwell-Doherty said each speaker can choose a sacred text from his or her own faith to be read in accordance with their message.
Speaking of the new Muslim Life Coordinator Anna Torres-Zeb said, "It should not surprise anybody that one of the texts that will now get read if Anna is preaching is going to come right out of the Qur'an."
For chapel, Rabbi Michael said campus ministry also works with Coordinator of Chapel Music Jessica Helms to ensure the music matches the service's message, and the experience can "echo what the preacher really wants to say."
Each year, the university chapel has an overarching theme, which is currently "Known and Loved." Rabbi Michael said last year's theme was "Room at the Table," which had a Christian meaning but was still inviting to all people. She said they always try to make these as broad as possible.
"One thing that you will notice when you come to chapel, it's not about Christ, it's about God with a capital, which encompasses everyone," Rabbi Michael said.
They are not "watering down" the services or making them "safe," Maxwell-Doherty said. He said more people will be invited into the chapel experience, which has the aim of a "common imagination of God."
Rabbi Michael said she is able to write for chapel from her own Jewish understanding. In the process, however, she has become more familiar with Christianity and learned its connection to her own beliefs.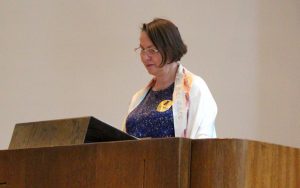 Campus Ministry administrative assistant Elizabeth Lohr-Myers said Rabbi Michael sparks questions and offers new perspectives. For example, Lohr-Myers said when working on the invocation, a calling for God's presence in a service, for the Honors Day Convocation, Rabbi Michael raised the question of its meaning, causing them to rethink what an invocation truly is. She said they also worked to make it so Rabbi Michael was comfortable writing the piece.
"I think it's really helpful for all of us to have different voices and different perspectives in university chapel, expanding who is able to participate, and hopefully draw more people to service," Lohr-Myers said.
Maxwell-Doherty said the chapel follows the Lutheran "ordo," as in the structure and flow of the service, and that Lutherans are immersed in a religiously pluralistic society.
"To try to be reductionist and narrow, it just doesn't work in the real world," Maxwell-Doherty said.
Rabbi Michael said other components of her job as a Lutheran university's rabbi include getting to know people, such as when she greets attendees after chapel services, counseling and doing outreach to Jewish students. She also serves as an adviser for the Jewish club Hillel and promotes "social action" through events similar to the Passover Seder April 5 to support victims of human trafficking.
Rabbi Michael did an internship at Cal Lutheran in the campus ministry office when she was studying to become a rabbi, and afterwards was offered an official position. Thus, she has only worked as a rabbi within a Lutheran institution.
"This is my first place of serving and I love it," Rabbi Michael said.
Dakota Allen
Staff Writer