Assistant professor specializing in film, David Grannis, and two California Lutheran University students recently attended a convention in Washington D.C. to speak on behalf of their documentary. Despite facing some challenges, they hope to have it finished this summer.
Like other professors, Grannis is required to publish research, but he said the appeal of working on a documentary instead of an article or book was strong, especially when he thought to focus on the water crisis in California.
"There's an old saying that whiskey is for drinking and water is for fighting over," Grannis said. "The more I researched [the drought], the bigger it got."
In 2014, Gov. Jerry Brown signed the order that required California cities to cut back on their water usage by 25 percent.
"Defeating the Drought: Surf, Turf and So. Cal Water Conservation" works to capture how Thousand Oaks and Cal Lutheran implemented programs and went through processes to achieve this goal. The film includes interviews with scientists, officials from the city and school and the Farm Board. Besides Thousand Oaks, the film also looks at areas including Los Angeles, Fresno and the Central Valley.
"After these big storms, you'd think the water drought is over," Grannis said. "But most of the water that came from those rains is lost. This rain might stabilize something, but it's not going to fix the drought."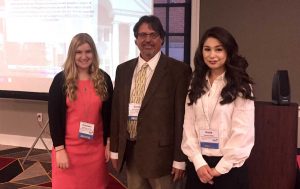 To help, Grannis enlisted two Cal Lutheran students, Karie Portillo Guerra and Kristiann Jones. Starting off, both students worked under the Culver grant to research over the summer and are continuing to work until the film is finished.
Guerra was key in the pre-production, putting together interviews and plans, and Jones was key in post-production editing.
"Getting asked to do research is a huge honor," Guerra said. "I'm very passionate about this project. I've always wanted to do something that was a lot bigger than myself, and to take what I've learned in my major and use it for good, so when he said he had a project on the drought, I was immediately on it."
Jones said she was also very excited to work on this project.
"As soon as we started working I knew this would be great a experience for me," Jones said. "I'm out there in the field, I get to see the whole production set up. And coming back, getting all the footage and making the story, it was a lot of fun."
The three recently attended the Smart and Sustainable Campuses Conference in D.C., where there were various presentations about devices and plans campuses can use to make themselves more eco-friendly.
There, they showed scenes from their documentary and explained how they went about the process of creating it.
"That was the first time we've actually shared complete scenes with people," Jones said. "We got to see people's reactions, hear their questions about what's going on. We were excited to go and present it to people all across the country. It was cool to open their minds to it."
The team faced multiple challenges in the making of the film, including scheduling, editing and the fact that the water issue was found to be quite the controversial topic, making it hard to find farmers willing to talk to them.
The almond industry, which is a large part of California's agriculture, caused problems. They refused to talk to the film team and told their farmers to do the same.
In response, Guerra looked toward schools instead and found Fresno State, which ended up being cooperative and welcoming. 
"If there's one thing we encountered with this film, it's that water politics are very controversial," Guerra said. "People don't like to talk about water, or who's responsible for what, but getting people to talk to us makes it different. We don't focus on one side of things, we take all these opinions and let you make your own."
Grannis said as much as he enjoyed the project, he is ready to move on to the next thing. His goal is to have the finished product showing in film festivals, specifically eco-focused film festivals, believing that it holds a message many Californians will relate to, especially those who are local to the film's locations.
"I think [the locality] is what makes it so unique," Grannis said. "I think a lot of people that live where we live don't realize that 100 percent of their water is imported, and they tend to squander it rather than conserve it and be a little bit more conscious about how they use it."
Overall, the three said they hope that people will realize just how much of an effect water has on everything in our lives, from what we drink, to how our lawns look, to where people are able to live.
"The drought is more than just a lack of water," Guerra said. "It changes how people live their lives. This film really showed me that."
Emily Graybill
Staff Writer