After officially becoming a new club on campus at California Lutheran University this past spring, we caught up with the CLU Dive Club after they participated in some pool dives and a weekend trip to Catalina Island, where they all became officially open water SCUBA certified.
"Our trip this past weekend to Catalina Island was successful and overall incredibly fun," sophomore CLU Dive Club president CJ O'Brien said. "We completed all the dives we needed and had the most amazing time."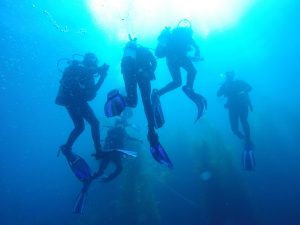 To be open water SCUBA certified, CLU Dive Club members had to each participate in different types of dives with an instructor. The trip to Catalina was their last phase to get their certification and be able to dive without an instructor.
"To be able to go to Catalina, we had to make sure everyone completed their class work and pool dives," O'Brien said. "Since you have to complete pool dives and open water dives to become certified, most dive shops choose Catalina for it's great visibility and its convenience for new divers."
O'Brien and the rest of the CLU Dive Club have been working with PCH Scuba Dive Shop for the majority of the spring semester to gain their certification. The dive shop helped the club organize hotels, gear rental and the ferry tickets to Catalina.
"Now that we're SCUBA certified, that means we're able to dive without an instructor and we can all dive 60 feet and basically go diving whenever we want to now," sophomore CLU Dive Club member Olivia George said. "Experiencing being able to breathe underwater and being able to see all the animals and the other stuff was just one of the coolest experiences ever."
Having previously prepared for this trip to Catalina with multiple pool dives and other ocean dives, CLU Dive Club members were more than ready to get certified after all the work they put in this spring.
"The pool dives definitely prepare divers by letting you do your dive skills in an easy environment," O'Brien said. "You have to practice emergency assents, mask clearing, regulator recovery, and it's a great way to get oriented with breathing through a regulator."
While on their weekend trip, CLU Dive Club members participated in multiple different dives, which included running into numerous kinds of fish, kelp and even diving through a shipwreck.
"Catalina is known for their giant sea bass, which are these huge fish that are bigger than humans. When I was diving, I saw two of them, and I saw the shadow of them and it's just insane because they're bigger than you are," George said. "We also saw the California state fish, the Garibaldi, which is super cool and bright orange."
After having seen numerous things while out on dives, club members also saw giant kelp beds unique to California.
"California and New Zealand are two of the only places in the world where there is kelp, which isn't that exciting I know, but we did see a lot of kelp which was pretty cool," George said laughing.
Junior CLU Dive Club member Sawyer Weddle said that out of all their dives thus far, their trip to Catalina was the coolest they've done and it was a rewarding experience overall.
While on land, CLU Dive Club members went out and explored Catalina Island, planned future dive trips and did group karaoke.
"We're already planning more trips," O'Brien said.
"Everyone is so excited, talking about beach dives in Malibu, Channel Island dives and maybe even trips to Cabo to dive. This summer and next year will be a huge step in getting all the new certified divers out on more and more dives."
"Just planning different trips, and going places and now always having these people as dive buddies, there's just all these different places that you can go diving in California, and I'm just really excited to go on more dive trips in the future," George said.
Alexa Barnes
Staff Writer