Regals Unable To Snap Losing Streak Against Panthers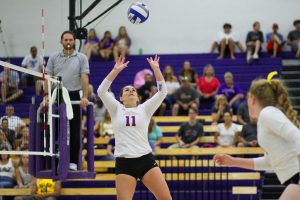 The California Lutheran University women's volleyball team served up their Southern California Intercollegiate Athletic Conference home opener Saturday, Sept. 16, inside Gilbert Arena, coming up short to the Chapman Panthers in five sets.
Although Cal Lutheran came out sluggish, the intensity inside Gilbert Arena built throughout the five sets. The Regals' desire to snap their three-game losing streak was apparent. Cal Lutheran's senior outside hitter Hope Stewart opened the first set with a kill, but it was all Chapman the rest of the way, giving the Regals a deficit to overcome. She had some thoughts about what the team should look to improve.
"Being more offensively aggressive. Running more plays and really communicating with each other and trusting each other to get it done." Stewart said.
The Panthers showed up ready to play, building a 20-9 lead that proved to be too great for the Regals. Dominating the first set, Chapman doubled the Regals' kills, 14-7, ultimately winning 25-16. Cal Lutheran came out of their first set loss with a new mentality, opening the second set 3-0 after forcing two Chapman attack errors.
The set looked to be all Cal Lutheran, forcing two Chapman timeouts after opening up the lead 9-2 and 14-9. Panther's sophomore outside hitter Courtney Justus served up an ace midway through the set, starting a Chapman comeback that brought them within two points at 18-16.
Cal Lutheran rallied back after a service ace and kill by senior middle blocker Molly Holloway, bringing the score to 24-20. Stewart closed out the set with a kill assisted by senior setter Jamie Smith.
With the overall score 1-1, the third set opened with a dominant start by the Regals. Cal Lutheran's Holloway and Stewart teamed up for two blocks in a row, building a 9-3 lead for the Regals. Chapman's spark came later in the set, taking a late lead 21-20, forcing a Cal Lutheran timeout. A final service ace by senior setter Mikayla Dobson closed out the set with a Regals win 25-23.
Winning two sets in a row, the Regals entered the fourth set in winning position.
"We had a lot better start than in the first set. We got a good run at the beginning and I think that let us get a lot of leg room to work with," Dobson said.
The Panthers stumbled into the fourth set, committing two consecutive service errors, giving the Regals a 9-6 lead. A total of six ties throughout the set showed an even matchup between the Regals and Panthers in the fourth, but Cal Lutheran's seven errors proved to be too much, allowing the Chapman win 25-23, tying up the overall score 2-2.
The fifth and final set started all Panthers, coming out with a 6-1 lead on the Regals. Cal Lutheran's fire was not extinguished, rallying back to tie the set 7-7 following a service ace from Dobson.
The violet and gold were unable to rally back from a 14-12 Chapman lead, falling 15-12 in the fifth. Chapman's Lindsey Johnson and Kylie Cooke led the way with 17 kills each. Panther's Jessica Blum contributed 31 assists to their 3-2 road win. Stewart, Roberts and freshman outside hitter Sarah Hein all tied for the team lead in kills with 11 apiece while Smith secured a game-leading 37 assists.
The Regals look to improve their 0-2 SCIAC record by learning from the mistakes made in this loss.
"We need to improve upon, as a team, lowering our unforced errors," Dobson said.
Cal Lutheran heads out on the road Tuesday, Sept. 19 at 7 p.m. to take on Pomona-Pitzer.
Priscilla Romofsky
Reporter