Meeting the Demand for More Residential Housing
September 19, 2017|8 Views
In order to accommodate a growing resident population, California Lutheran University has made updates to on-campus housing for the 2017-18 school year. The changes include outfitting two residence halls to accommodate five students per room and opening two university-owned houses for residents.
The Pederson and Thompson residence halls were both updated over the summer to accommodate five students per room instead of the four previously, said Nate Fall, director of housing operations in the Resident Life and Student Conduct Office. Two houses on Faculty Street at the south end of campus were also converted for 15 residents.
"This isn't the first year that Pederson and Tho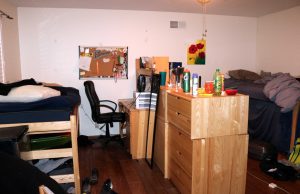 mpson has five students per room. It's the first time we've, in my mind, done it right in that we made it look like we didn't just throw a fifth set of furniture in the rooms," Fall said.
The renovations made to accommodate five students per room included re-configuring the living room to have more space with the removal of desks and replacing them with a work-station that functions as a long built-in table against one wall of the living room.
First-year Thompson resident Kleya Dhenin said that she could not imagine the living room having four desks before the update to the work-stations.
"Really only like one or two of us will work at them (the workstations) at a time usually because someone will like work on the couch or I like to read on my bed," Dhenin said.
Updates made to outfit the halls to accommodate more students include purchasing new lounge furniture for the quad areas, improving study rooms, and updating electrical infrastructure so the buildings can handle more computers, according to Fall.
Fall said the updates allowed the halls to house just under 30 additional students in Pederson hall and just under 25 in Thompson hall. This marks the first time in four years that all first-year residents reside on the same side of campus, as South Hall on the west side of campus was used to house additional first-year students, according to Fall.
The other change to residential housing was the opening of two university-owned houses on Faculty Street that are occupied by 15 students who are considered on-campus residents. Eight residents live in a house that is a converted ELS classroom and seven live in a former rental house with each resident paying the Mogen housing rate according to Fall.
"Last year we had students living off-campus paying Cal Lutheran's housing rate and I'm just thankful we didn't have to do that again," Fall said.
The houses come with their own washer and dryer units, a backyard and four bedrooms. The rooms are furnished with the standard residence hall bedroom set of a dresser, desk, bed and bedframe.
Senior Avid Eghbali Ghahyazieghbal lives in one of the houses on Faculty Street and said he enjoys the amenities the house offered.
"We do have a backyard it's probably the best part of the house," Eghbali said. "They came with a swing set, the hammock and then the gazebo."
Fall said that the decision to open the houses to residents was first discussed in June and finalized mid-August with the intention of filling the houses with residents who sought that specific environment.
"We wanted students that would actually want this experience, you know, juniors and seniors that would've loved to live off-campus," Fall said. "Well, this feels like that but you still get the convenience of being able to wake up five minutes before your class."
Fall said the Faculty Street residents are supervised by Grace Hall resident assistants. The house residents receive the same resident notifications, have ID-card access to Grace Hall and abide by the same campus housing conduct policies.
Fall said that the current housing numbers "hover around 1,415 residential students" and that it will take more time to determine if there is a trend in on-campus residency or if it is a fluke.  According to Fall, if the on-campus housing increase is determined to be a trend, it can take three years to build a new building.
"I'm going to continue to advocate for a new building. I think if we built one today we could fill it, because there are students out there that would probably choose to live in housing if we built the right sort of building," Fall said.
Nicki Schedler
Reporter