Practicing Wellness With Brianna Edwards
September 19, 2017|13 Views
Passionate, determined and loyal are the words Brianna Edwards would describe herself. Edwards is the new Coordinator for Recreational Sports and Wellness in the Student Life department here at California Lutheran University. She was born and raised in Minneapolis, Minnesota, and had a very busy adolescent life that has led her to developing the work ethic she has today.
"I am very focused and self-motivated. When I set my eyes on something, nothing will stray me from that. I am always working toward long-term goals. Basically, everything that I do is a drop of in the cup of water, so that eventually I have a full cup," said Edwards.
Edwards received her undergraduate degree in Social Sciences with a minor in Black Studies from Providence College in Rhode Island. There, she played for the institution's basketball team and was very involved in the intramural program. She continued on to obtain her master's degree in Higher Education and Counseling, which she completed this past May.
Ultimately, her graduate years were essential in bringing her into the field she is currently in.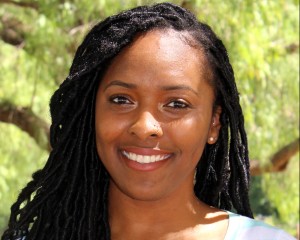 "Graduate school is where I gained all of the experience that I have that led me to being in this job that I have right now, as I worked as a graduate assistant for the Vice President of Student Affairs and also for intramurals" said Edwards.
I didn't find out until my first year of grad school how passionate I was about working with students. I realized how much I grew during my four years in undergrad and how different of a person I was each year. I can name a person for each year that influenced me to be the person that I am today. I want to be that person for somebody, and that's what motivated me into wanting to work in Student Affairs."
Edwards discovered the opening for the position that she has now through The Placement Exchange, which is a Student Affairs Career Placement resource.
After going through extensive interview processes in San Antonio, Texas, she was brought to interview at our school. Andrea Treptow, Associate Director of Student Life, was one of the professional staff members that she interviewed with. Treptow is now her direct supervisor in Student Life.
"We decided to choose Bri because she has a lot of experience with working with athletes, intramural programming, and recreation on campuses. Being a student-athlete herself and having that experience plays a lot into the wellness aspect and making sure students, especially ones that are heavily involved around campus, are students first and taking care of themselves on the mind, body and spirit level," said Treptow.
According to Treptow, an element that is vital for all Student Life staff to have is a passion for working with students. It was apparent that Edwards was no stranger to this, which made her an even stronger candidate for the position.
"Everything I heard from her and from the people that I talked to that she worked with before showed me that she has a really good connection and relationship with students, and that's something that I look for when hiring staff—that they can connect with the Cal Lutheran student—and I think so far she's done a great job of displaying that," Treptow said.
Scott Silverman, Assistant Dean of Students and Director of Student Life, is responsible for the overall direction of programming of the activities that Student Life and its various branches do. The Coordinator of Recreational Sports and Wellness position includes intramural programs, outdoor recreation programs that include on and off-campus endeavors, and wellness.
"The position was originally just comprised of recreational sports and the fitness center. We had a wellness program a few years ago but it was put aside for a while because the department was short-staffed," said Silverman. "Although students sometimes don't necessarily see the benefits right away of participating in Wellness programming, it was really important to bring that back and add it to the position, and of course it was really important, for this hire, to make sure the person was able to do both of those areas."
Like Treptow, Silverman is enthusiastic of Edwards' presence on campus and optimistic of her future here as she begins to help students understand wellness.
"I'm honestly really excited to see what she does with the position and how she puts her own mark on it, how she makes it her own, and how she maximizes the effectiveness and reach of the areas she works with," Silverman said. "She's been on campus since June, and already I have seen some really cool things that she's talking about doing, and I am excited to see what the next couple of years will bring."
Krystal Rhaburn
Reporter