A Motivated Underdog With Many Paths To Success
Transfer student Wendell O'Brien came to California Lutheran University because he felt it was one of the few schools that believed in him. The school offered him opportunities when no other school did. O'Brien proudly plays as one of the starting wide receivers for the Kingsmen football team.
While growing up in New York, O'Brien says he was constantly overlooked and restricted from opportunities. As a result, O'Brien decided to leave his hometown in search of a new beginning.
"I've always been the underdog," O'Brien said.
According to O'Brien, he  now uses his past as an advantage.
"All those years where I felt like an outcast, or came home crying or felt like I was stripped from opportunities. I remember those moments and bring that with me on the field," O'Brien said. "All of that energy bursts onto the opponent and I use it to win."
Although O'Brien has played football competitively since fourth grade, it was not until 2014 that he felt his football career took off. During this time, O'Brien had the opportunity to work with Terrell Owens, a former all-pro wide receiver.
"After one of our workouts, he pulled me aside, looked over at his friend and said, 'We're gonna get this kid to the NFL,' and he turned to me and said, 'Put your number in my phone,'" O'Brien said. "He texted me later that night and eventually became my mentor."
O'Brien said working with Owens allowed his game to reach another level. It was where he began thinking and acting like a professional.
"It completely changed my life," O'Brien said.
In addition to Owens' guidance, O'Brien says his father was his biggest influence. O'Brien's father passed away from a heart attack when he was 13 years old.
"He was my best friend and my mentor… he was my superhero," O'Brien said. "He was so iconic in my life growing up that he has stayed with me and with everything I do."
According to O'Brien, the fact that his father was never able to see him succeed in football motivates him.
"The last time I played, I envisioned him and God in the end zone and thought 'I'm just going to meet them there.' I ended up scoring twice that game," O'Brien said.
Ben McEnroe, head coach of the Cal Lutheran football team, says O'Brien's hunger to win and level-headed personality are what make him successful.
"He's even-keeled. Doesn't get too high with the highs or too low with the lows and he works hard," McEnroe said.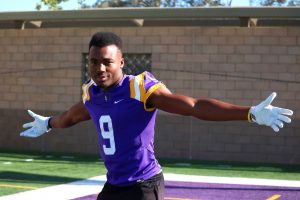 McEnroe says O'Brien positively impacts the team as he is a role model to the underclassmen and frequently offers to help them after practices.
"Practice just ended and he'll be like, 'Let's get some more practice on the field real quick,'" said Rachaun Wagsaff, a sophomore on the Kingsmen football team. "The fact that he's willing to take the time to make others better shows how much of a team player he is."
McEnroe said that side from positivity, O'Brien's work ethic, is what sets him apart from other players. Prior to coming to Cal Lutheran, O'Brien didn't understand some of the pass routes coaches expected him to know. McEnroe mentioned that O'Brien worked extremely hard to improve and paying attention to little details triggered his tremendous growth.
"When you get a weapon who constructs the field, has great hands and a burning desire to compete and win… it brings a lot to your offensive attack," McEnroe said.
This past spring, O'Brien joined track to enhance his speed. As his first time competing in track, O'Brien says he went in with open arms and learned from the veterans of the team.
"Before my first meet, I called my mom and she said, 'You know your dad was in track right?' and I thought she was lying," O'Brien said. "I found out he did the same events as me – the one-hundred-meter dash and the four by one – I had absolutely no idea until she told me."
O'Brien says his father is always in the back of his mind when competing in track. He carries a chain that has the date his father was born and the date he passed away along with the words, 'make him proud' engraved on it.
"In track, I always put it in the back of my shorts pocket and ran with it," O'Brien said.
Halfway through the season, O'Brien and the 4×100 meter team placed second in the nation and qualified for nationals. They missed first place by seconds, but ran the fourth fastest time in Cal Lutheran history while also making All-West Region honors.
When O'Brien returned to football, he immediately noticed a difference in his performance. O'Brien said joining track taught him how to effectively control his breathing and speed.
O'Brien's ultimate goal is to make it into the NFL. He says he would love to work with the New York Giants, his favorite team, or the L.A. Rams. However, he said whatever team sees potential in him will be the team he will join.
"Any team wanting to give me the opportunity, I will take it hands down," O'Brien said.
After graduation, O'Brien plans to create a charter school for underprivileged kids who feel like outsiders. Part of the inspiration that stimulated the idea comes from the interest O'Brien has for theatre. Around the time his father passed away, O'Brien began to have a love for both music and acting and used it to remove himself from the world around him.
"Acting was the ultimate escape for me. To be or play someone else, helped me escape whatever I was dealing with," O'Brien said.
O'Brien enrolled in a beginning acting class at Cal Lutheran in the spring of 2017. Prior to taking the class, he had never acted in front of people. Within the same semester, O'Brien snatched a lead role in the play "Gray Matter" and won best actor in Blackbox Theatre, Rising Star and the Capstone Actor of the Year Award.
"I posted a video on Instagram of me doing a Will Smith monologue and it blew up," O'Brien said. "My friend reposted it and the video spread and out of nowhere some producer contacted me."
A producer from the Bay Area, whose name O'Brien would like to keep confidential, asked O'Brien if he could act in his upcoming short film. Barry Jenkins, director of the drama movie "Moonlight", came across a short snippet video of O'Brien acting in the short film and retweeted it on his twitter account to his 94,000 followers.
"I want to act. I want to be behind the camera and inspire others to follow their dreams," O'Brien said. "I know I will have a huge impact on the African American minority groups because of where I come from and my story, but I want to inspire everyone."
As passionate as O'Brien is about theatre, he says he feels the arts are being ignored in our society and he hopes to change that.
"I want to create a platform for people to show their talent," O'Brien said. "I want people to know they're special."
O'Brien has set the bar high for himself but, according to McEnroe, there is no doubt in his mind that he'll achieve his goals.
"Wendell's going to be successful no matter what he does because of his attitude and ability to collaborate," McEnroe said. "I'll miss the deep threat in our offense, but we can recruit for that. We can't recruit his character and the young man he is."
Christie Kurdys
Reporter