California Lutheran University Head Tennis Coach Mike Gennette was watching the 2017 U.S. Open in a presidential suite at Arthur Ashe Stadium in the Queens borough of New York City, while the president of the Mexican Tennis Federation sat to his left. Former New York Mayor David Dinkins was in attendance- he shows up every year. This is what over 25 years of hard work, persistence and humility on the court looks like when you're the 2016 Player Development Coach of the Year.
Gennette remembers the call and email he received from the United States Tennis Association and the United States Olympic Committee  when they recognized him for the distinguished title.
"This award is basically saying you're the best coach in the United States for developing players, and there are so many coaches out there – great coaches, that go their whole life without receiving an award," Gennette said. "This is just one of those things where it's like catching lightning in a bottle. I'd say it's very fortunate because there's others that are equally deserving," Gennette said.
It's a culmination of many years of hard work, or as Gennette put it, "a 25-year overnight success." Outside of proudly serving as the head coach of the Kingsmen and Regals tennis teams, Gennette spends time training elite junior tennis players. One of his protegés, Claire Liu, won the girls' doubles tournament at Wimbledon in 2016, and went on to be number one in the world in juniors rankings at Wimbledon the following year. Kayla Day, another athlete faithfully trained by Gennette, was named number one in the world after winning the Junior U.S. Open in 2016.
"Some of the athletes I've coached went off to play tennis on college scholarships and the other ones have turned pro or are in the process of turning pro right now. I guess when it rains it pours," Gennette said.
Gennette said he began coaching Liu when she was 5-years-old. She attended his summer tennis camp held at the Cal Lutheran. This was all while Gennette was still coaching tennis full-time at Cal Lutheran.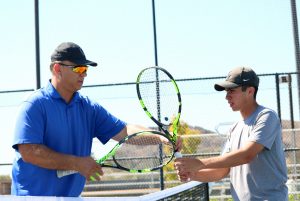 Many of the children who attended his summer tennis camps at Cal Lutheran grew up to play tennis for the Violet and Gold, Gennette said. Private tennis coaches around the country are calling him to ask if they can send their students to Cal Lutheran to play for the Kingsmen and Regals.
"We're taking the approach right now with the programs where we want to build character and recruit character. Of course we'll take a top player but we will also not take a top tennis player if they aren't a good match for the energy we are trying to create."
After taking over as head coach for the women's team this past June, the Regals finished the spring season 3-2 and fifth in the Southern California Intercollegiate Athletic Conference standings, and 7-11 overall, according to clusports.com. The goal for both teams is to be in the top 10 of the national rankings at the same time, Gennette said.
"It's a real honor to be coached by coach Gennette," junior Sarah Seeman said. "I think, as a team, it's definitely doable for us to get far in our season and do well under [Gennette]. We have a lot of talent on our team, and we could do some damage in SCIAC in the future."
Seeman said she focuses on "micro-goals" when working toward advancement in tennis rankings; it's a mental framework that Gennette taught her in previous seasons. She said focusing on the small goals in the present will help you work toward the larger goals in the future.
Junior Mike Sulahian said that Gennette persistently works on little details to help improve and expand his game so he can be a more diverse player. He said that Gennette "has an eye for everything."
"When you have a great coaching staff that understands the physical and mental side of [playing tennis], it helps the whole team grow," Sulahian said. "Every team has its ups and its downs. Every dynasty has to start again, and right now we are in that rebuilding phase but we've been progressively getting better."
Gennette said that growing up, he was much more passionate about pursuing tennis than those who were dragged onto the courts by parents. He wanted to play seriously. Gennette paid for his own tennis coaching while still in high school and went on to play in four seasons for the Kingsmen (1987-89, '91) before becoming an assistant coach.
"It's been 25 years since Cal Lutheran called me up and asked if I'd be interested in interviewing for an assistant coaching position, and I'm so grateful for that. What a wonderful 25 years, and here's to another, say, 15 more."
Olivia Schouten
Reporter