ASCLUG Presents: Homecoming Carnival
On Saturday Oct. 14 at 7 p.m. the Cal Lutheran community gathered to enjoy the many activities planned by the Associated Students of California Lutheran University Government (ASCLUG).
In one corner of the expansive Memorial Field, a ride called the Sizzler spun students around in circles until they could barely walk straight. Student performers entertained onstage near the inflatable obstacle course.
ASCLUG wanted to ensure a fresh and new experience for carnival-goers this year. Keeping in mind experiences and feedback from two previous homecoming carnivals, Senior Representative Ben Zaiser made necessary adjustments this year.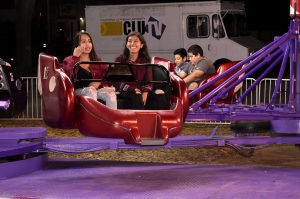 "We got different food because last year there was a lot of extra so we brought in funnel cake, nachos and stuff like that this year," Zaiser said.
Keeping an inclusive family-friendly environment was a priority throughout the planning process.
"The games and stuff were a little bit more kid friendly games for families that do come with students that have younger siblings or cousins or something and they all want to come out and check out the school and stuff. And then all entertainment is family friendly, nice for everyone to hang out. Not just for the students," Zaiser said.
A giant slide, obstacle course and revolving ride highlighted the list of activities set up for everyone to enjoy.
"It's [the ride] called the Sizzler. It's a spinning one so you're spinning in a chair while the whole thing is spinning so it's like a double spin. We have different themes and experiences for people to have," Zaiser said.
Families and students gathered at Memorial Field to experience everything the carnival had to offer. ASCLU Programs Board Director Samantha Schindler said there were small hiccups during the final stretch of  planning.
"We had a little bit of difficulty with clubs dropping out of helping out with games and finding student performers that would be willing to perform for the hour or two for the families," Schindler said.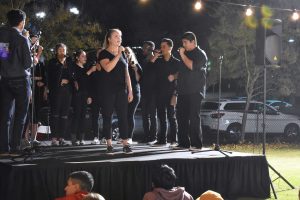 ASCLUG successfully brought student performers together to light up the evening. Student freestylers, choir members and the Cal Lutheran dance team all shared their talents with carnival-goers.
Cal Lutheran senior and first-time carnival-goer Kylene Aquino enjoyed her time but also had a small critique.
"I'm enjoying my time here so far. I heard about it from the promos around campus, and it's cool. I'd like some more music though. Since the field's pretty big it's hard to hear the students that are singing all the way over there so some background music would be nice," Aquino said.
Priscilla Romofsky
Reporter